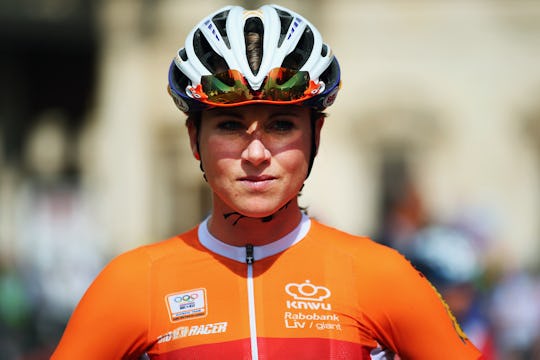 Bryn Lennon/Getty Images Sport/Getty Images
What Happened To Annemiek Van Vleuten? The Dutch Cyclist Suffered A Terrible Crash In Rio
Dutch cyclist Annemiek van Vleuten was leading the pack in the women's road race at the Olympics when, with only six miles until the finish line, she had a terrible accident. She was going nearly 50 miles per hour when she crashed, and other competitors quickly overtook her. So, what happened to Annemiek Van Vleuten following the accident? With van Vlueten left motionless by the crash, viewers were understandably more concerned about her wellbeing than about who may have won the race.
Update: According to multiple media reports, van Vleuten has suffered a concussion and three cracks in her spine. She is currently in intensive care.
The International Olympic Committee have yet to update the public on her condition following the incident, but Dutch media reported soon after the race that van Vlueten was "concious but in shock." Reuters sports editor Iain Axon also tweeted that Dutch journalists on site were reporting that van Vleuten was okay, and the Royal Dutch Cycling Federation confirmed that van Vleuten was conscious and on her way to the hospital.
The curving downhill route where van Vleuten crashed saw a scarily similar scene yesterday during the men's road race: cyclists Vincenzo Nibali (from Italy), Sergio Henao (from Colombia), and Geraint Thomas (from Great Britain) all crashed late in the race while tackling the same route.
This video may be disturbing to some:
After van Vleuten crashed, it seemed like American cyclist Mara Abbott might take the gold, but she was overtaken by van Vleuten's teammate, Anna van der Breggen. "It really shook me when I saw Annemiek crashed in the road," Van der Breggen told the BBC. "If you see her like that, it changes everything."
Former Olympian cyclist Chris Boardman, from Great Britain, told BBC the route was unsafe. "I went down and had a look at the course and saw those edges. We knew it was way past being technical; it was dangerous. The people who designed the course and said what safety features were needed had seen it as well and left it," he said. He continued:
"We knew the descent was treacherous. I looked at that road furniture and thought, nobody can crash here and just get up. It is really bad and that is what we have seen today."
No further news has emerged regarding van Vleuten's condition, but according to reports, she is conscious and being looked after. Van Vleuten was slated for another Olympic event — a time trial on Wednesday — but without further information on her injuries, her participation in upcoming trials is unclear.