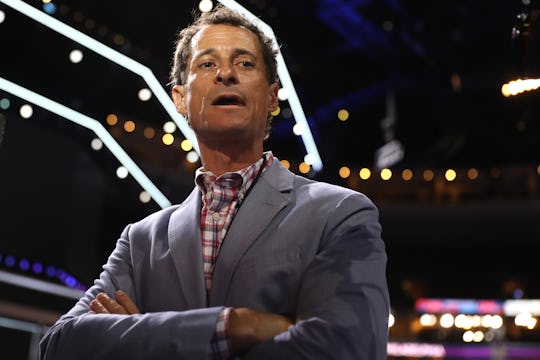 Joe Raedle/Getty Images News/Getty Images
What Happened To Anthony Weiner's Twitter? The Disappearance Could Mean Another Scandal
Although Democratic presidential nominee Hillary Clinton once tweeted the insult "Delete your account," at opponent Donald Trump, it was a one-time politician from her own party who ultimately took that advice. Ex-New York Congressman Anthony Weiner is, in fact, married to Clinton's top aide, Huma Abedin, who announced Monday that she'll separate from him. And he's notorious for a 2011 sexting scandal that exposed his propensity for exchanging explicit photos online with women who were not his wife, forced him out of office, and made him a nationwide laughingstock. Now, five years later, Weiner is reportedly at it again, and what happened to Anthony Weiner's Twitter account is the same as the fate of his political career: it's gone, obliterated, poof.
"To be clear, the picture was of me, and I sent it," Weiner said in his apology speech in 2011 of the lewd photo that had appeared on this Twitter page and ignited the scandal, according to The Guardian.
Weiner reportedly deactivated his Twitter account early Monday morning, the day after The New York Post published a salacious exposé alleging that he had a virtual dalliance he's shared with a Trump supporter since January 2015. The unidentified woman reportedly shared lewd photos that the former politician had allegedly sent to her via Twitter, including a crotch shot dated July 31, 2015, which featured a sleeping child, allegedly the young son Weiner shares with wife Huma Abedin. When the Post asked Weiner himself about the exchanges, he said that he and the woman "have been friends for some time."
"She has asked me not to comment except to say that our conversations were private, often included pictures of her nieces and nephews and my son and were always appropriate," he added, according to the Post.
Romper has also independently reached out to Weiner for comment on the Post's allegations. Abedin, though, did comment, however briefly. In a statement, Clinton's right-hand woman announced that she will separate from Weiner, according to NBC News:
After long and painful consideration and work on my marriage, I have made the decision to separate from my husband. Anthony and I remain devoted to doing what is best for our son, who is the light of our life. During this difficult time, I ask for respect for our privacy.
Abedin may have requested privacy, but her husband has repeatedly granted her and her family anything but. She's stuck with him through years of scandals, even after learning she was pregnant with the couple's first child at the time that news of Weiner's first known round of alleged indiscretions broke.
In May 2011, when an image of a man's bulging crotch briefly appeared on Weiner's Twitter page, Weiner initially claimed his account had been hacked before admitting that he inadvertently publicized the photo he had intended to share privately, according to CNN. He confirmed that he had engaged in inappropriate sexually charged relationships with several women online, and soon resigned from Congress. Two years later, billing himself as a man who'd learned his lesson and who was prepared to champion the middle class, he embarked on a campaign to become the mayor of New York City — a goal he was forced to abandon amid new revelations that his online persona, Carlos Danger, had continued to use social media as a sexting playground since 2011.
Having again made a public mockery of himself during what's arguably the most bizarre presidential election election cycle ever, Weiner finds himself soon-to-be-single. Whether that newfound freedom will prompt him to reactive his Twitter account to keep doing what he does best remains to be seen.