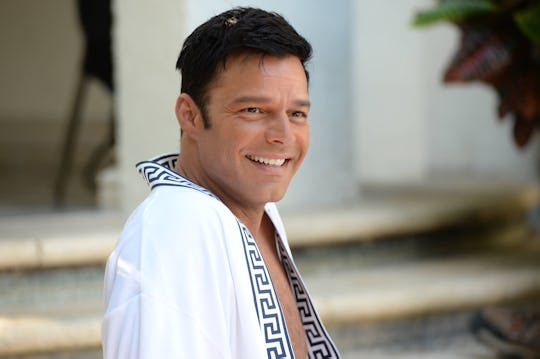 Jeff Daly/FX
We Need To Talk About That Ending Of 'The Assassination Of Gianni Versace'
The last episode of The Assassination of Gianni Versace dealt with the immediate aftermath of the titular crime, as well as the impact Versace's death had on those closest to him. His partner of 15 years, Antonio D'Amico, was understandably devastated and appeared to attempt suicide in the final moments on the show. Though he was quickly found by a maid, the episode ended without revealing his fate. So what happened to Antonio D'Amico?
"Alone" stressed how lost and abandoned Antonio felt after Gianni's murder. It seemed like he had no place left, especially since it was made clear that he would not be allowed to live for long in the houses Gianni had left for him. Donatella, though not as sharp with Antonio as she had been in past episodes, gave no indication that he was still considered part of the family. She told him he should start a new life now, but that must have been a daunting undertaking considering Gianni had been Antonio's life for well over a decade.
As the episode neared its conclusion, Antonio took an entire bottle of pills with a glass of red wine. But he was conscious when the maid discovered him, and its debatable how accurate the details of the attempt were. The real Antonio D'Amico is alive and well to this day, and was able to put his life back together after his partner's death, though it was a difficult journey.
In a recent interview with The Guardian, D'Amico spoke about the overwhelming grief he experienced after Versace was shot by Andrew Cunanan. According to D'Amico:
I had never been through a depression and never saw a therapist as I was advised to: why did I need to tell someone else what had happened when I knew I was this way because Gianni's death had torn me in two? I was in a nightmare, I felt nothing and gave no importance to anything...the house, the money...because it felt felt to have expectations of life.
While it doesn't seem as though D'Amico himself has spoken openly about any suicide attempts, a book about the Versace family by Deborah Hall did mention his struggles in the years after Versace's murder. In House of Versace, Hall wrote that D'Amico had "even attempted suicide before finally coming to terms with the loss of Gianni." D'Amico did eventually recover. He went on to pursue his own career in fashion before moving to the Italian countryside to try his hand at running a restaurant. He found love again in 2005, according to The Guardian.
Ryan Murphy had also spoken about D'Amico with the Philippine Daily Inquirer when discussing his choice to cast Ricky Martin. He described D'Amico as "a tragic figure, because he was with Versace for fifteen years and loved him. When Versace was killed, he was thrown out of this palace. He had suicide attempts." Whether or not those attempts did happen (and took the form presented in Versace) is unconfirmed by D'Amico.
And without official confirmation from D'Amico himself, the events presented in "Alone" must be viewed as speculation extrapolated from his mental state at the time. In an interview with The Advocate, Ball did mention that she had spoken with D'Amico, so it's possible her information came from him. There were no direct quotes about the matter in her book.
It's very possible that D'Amico would prefer to keep the more painful moments of his life private, especially since he had criticized Versace's dramatic license ahead of the series' premiere. There is no doubt that D'Amico suffered greatly after the loss of his partner, though concerned parties can rest assured that these days D'Amico appears to be healthy and doing well, happy with the quiet life he enjoys outside of the glare of the spotlight.
Check out Romper's new video series, Romper's Doula Diaries:
Watch full episodes of Romper's Doula Diaries on Facebook Watch.