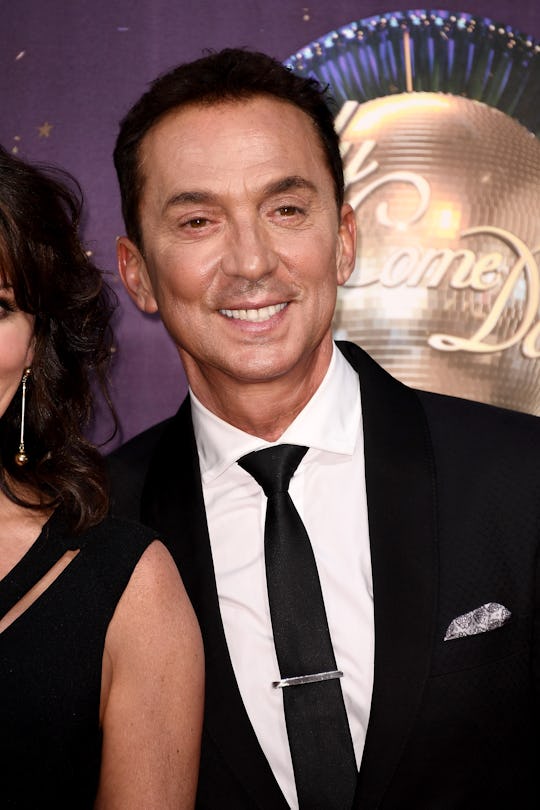 Gareth Cattermole/Getty
Something Happened To Bruno On 'Dancing With The Stars'
Every fan of Dancing with the Stars knows that Bruno Tonioli is the exuberant judge, meaning that he often jumps out of his seat with excitement and occasionally falls right off it. So what happened to Bruno on Dancing with the Stars? He's fine, you guys, he's fine. Seriously. But he was definitely experiencing some head-scratching difficulties.
In the midst of judging Property Brother Drew Scott and pro Emma Slater's rumba to "Lights Down Low," Tonioli apparently lost his balance and an empty seat at the judges' table appeared where Tonioli once sat. Carrie Ann Inaba was trying to tell Scott a compliment when she said, "You don't have much dance experience, I can tell..." which caused general hilarity. So much so, in fact, that Tonioli literally laughed himself off of his chair. Because that is a thing that happens to people. Seriously. I have done it. "I knew that was gonna happen!" he exclaimed as he got to his feet. Is it bad if I say we all knew it was gonna happen? "You know you've done something magical when Bruno falls off his chair," said Inaba. Because this is hardly the first time that this has happened to Dancing with the Stars' most enthusiastic judge.
Bruno, who is also a judge on the U.K. version of Dancing with the Stars called Strictly Come Dancing, has kind of a penchant for getting so excited he literally falls off of his chair. Recently, he fell right out of his seat in 2015 when judging Sharna Burgess and Noah Galloway's dance. Inaba quipped, "I'm OK, I'm wearing a seat belt now." Oh, and he also fell while judging Jay McGuinness and Ailiona Vilana, oh and when judging Darcey Bussell and Danny Mac, both on Strictly Come Dancing. Basically, falling out of his seat with excitement is kind of Bruno's thing.
That being said, falling out of one's seat at the judge's table is not the exclusive purview of Tonioli. In 2012, Dancing with the Stars' nicest judge Carrie Ann Inaba had her own little oops moment. When judging Gilles Marini and Peta Murgatroyd, Inaba got a little too excited and in the middle of the phrase "baby-making" (actually), she fell out of her chair. I love to laugh at the judges because they are here to entertain us, but honestly, who among us has not fallen out of their chair with excitement? If you say you haven't, well, you are probably lying.
In case anyone had forgotten, this is live TV. And that means that anything could happen. And often does. Everyone has little oops moments now and again, which is why there are blooper reels for movies, because it's hilarious to watch an actor stumble during a very serious scene. Unfortunately for the Dancing with the Stars judges, no one is there to edit out their clumsy moments. And frankly, I am so glad for that.
Unfortunately for Scott and Slater, Bruno's hilarious mishap did not result in suddenly elevated scores, though they did agree that he had improved. Slater insisted on giving the HGTV star a spray tan to help with his breathtakingly pale skin, but Scott also seems to have improved on his dancing. The judges agreed that he was less "gangly" than before, and seemed to put more effort into his sexy character. In a sweet moment, his wife was in the audience whom he paused to kiss, brushing away a tear. "She cries, I cry," he explained rather sheepishly. So it was not all hilarity on the Dancing with the Stars ballroom. Will Scott overtake the competition? Probably not. But we'll always have Bruno.
Watch Romper's new video series, Romper's Doula Diaries:
Check out the entire Romper's Doula Diaries series and other videos on Facebook and the Bustle app across Apple TV, Roku, and Amazon Fire TV.