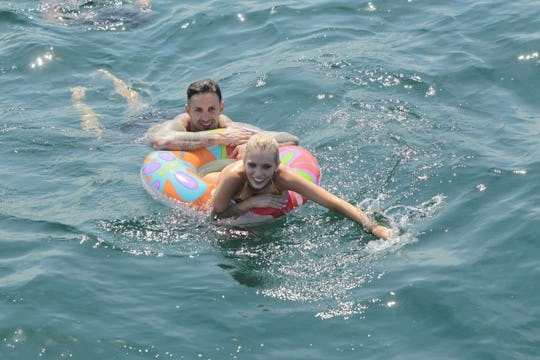 Rick Rowell/ABC
What Happened To Carl On Andi's Season Of 'The Bachelorette'? He Wasn't There Long
There are many alums from Andi Dorfman's season of The Bachelorette on this season of Bachelor in Paradise. Some of them are the real players of that season (Josh and Nick, hello). Others are... well, not as well-known. Right now, Nick and Josh are holding down the fort as the ghosts of Andi's past, but that isn't for long, since a new Bachelor is going to join Paradise very soon, and things are going to shake up a bit. Of course I'm talking about Carl King. Wait, who? I know, I know. You probably don't remember Carl, who spent significantly less time in the spotlight on Andi's season. So what happened to Carl on Andi's season of The Bachelorette?
After swooping in with a very dreamy Instagram account boasting many shirtless, inked, yoga-posed photos and a job as a firefighter, the Miami native was sadly booted from Andi's season during Episode 2. (Yes, art did imitate life when he performed a firefighter strip tease on a stripper-themed charity event group date.) It seemed like there was a compatibility issue between him and Andi since Carl was essentially kicked off for being "too himself." So since we didn't get to know him too well then, he has a pretty clean slate going into Bachelor in Paradise.
Carl still works as a firefighter in Miami, where he lives with his very adorable bulldog Archie. He's also still a practicing yogi with a handful of Crossfit photos thrown into his Instagram feed for good measure. In fact, he's so ripped that he was chosen for the 2016 South Florida Firefighters Calendar.
But what does Carl do besides being extremely fit for a living? Well, a few months after he landed the calendar shoot, he signed with Wilhelmina and he's still represented by the modeling agency. (OK, so maybe all Carl does is be extremely fit for a living... while rescuing kittens from trees, etc.) His copious modeling shots all lean heavily on his ample tattoos, ridiculously fit body, and crisp pompadour — so he's basically the dream male model.
Carl is also quite the traveler and seems to have a life goal of doing handstands in as many exotic locales as possible. And his travels appear to have him bumping into fellow Bachelor/Bachelorette alums pretty often. It was basically a dead giveaway that he was at least in talks to be on Bachelor in Paradise when he posted a photo earlier this summer of him, Jubilee, and Lauren H. (Jubilee was also cast on Season 3.) As for who Carl will hit it off with in paradise, we'll just have to wait and see whose type is "tattooed yoga guy."