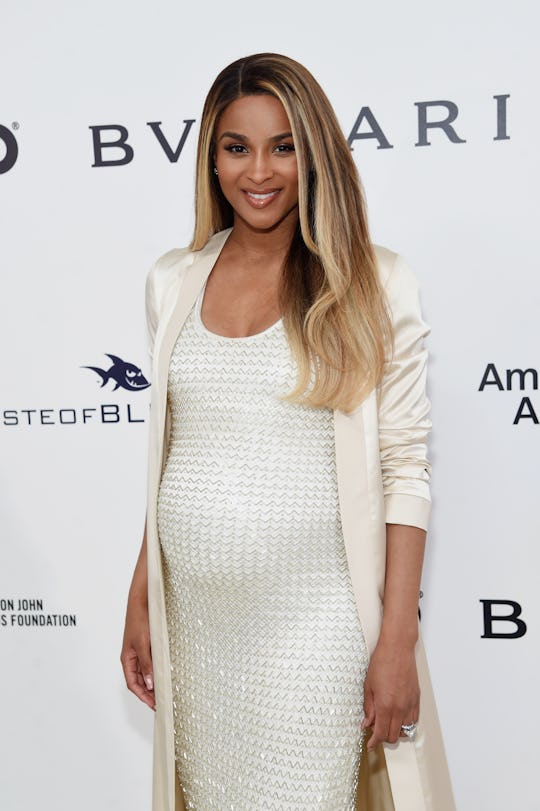 Jamie McCarthy/Getty Images Entertainment/Getty Images
Here's What Happened To Ciara
A scary incident left fans in Los Angeles worried about Ciara on Friday. But what happened to Ciara? According to TMZ, she was in a car accident on Friday afternoon: The singer was reportedly making a left turn in her SUV when a grey Volvo smashed into the passenger side of her car. Ciara is currently pregnant and in her third trimester.
Luckily, however, both police and the fire department arrived soon after the crash, and Ciara did not seem seriously injured. According to TMZ, Ciara was seen holding her chest and shoulder, but she was also walking and talking on her phone.
The 31-year-old singer is pregnant with her second baby, her first child with her current husband, Seattle Seahawks quarterback Russell Wilson. She is also the mother of 2-year-old Future Zahir, who was born in 2014 to Ciara and her ex-fiance, rapper Future.
The Los Angeles Police Department confirmed to Hollywood Life that there had been "an accident that occurred this morning at 11:48 am on the corner of Wilshire Blvd. and Barry in Los Angeles," but they did not release the names of those involved. According to TMZ, however, law enforcement sources said neither driver was seriously injured, which is great news. A source close to Ciara reportedly told People that the singer was fine.
That's great news for Ciara, who recently told Harper's Bazaar that she's looking forward to this next chapter of her life. "I'm just super excited about this time in my life. Like, Oh my gosh, I can see my son running around, and soon it's going to be two of these creatures running around!" she told the magazine in an interview published on Monday. "Our hands will be full of non-stop action."
Baby Future is also excited to meet his younger sibling, according to an adorable story recounted by the "I Bet" singer. "He'll randomly pull my shirt up and be like, 'I want to see the baby,'" Ciara told Harper's Bazaar. "'Hello, baby. How you doing, baby? I love you, baby. Okay, talk to you later, baby. Bye, bye.' Then he'll kiss me on my belly and put my shirt back down."
It's great to hear that both Ciara and the other driver are fine after the accident. Being in a car accident while pregnant is nothing short of terrifying, and hopefully both Ciara and her baby are safe and sound.