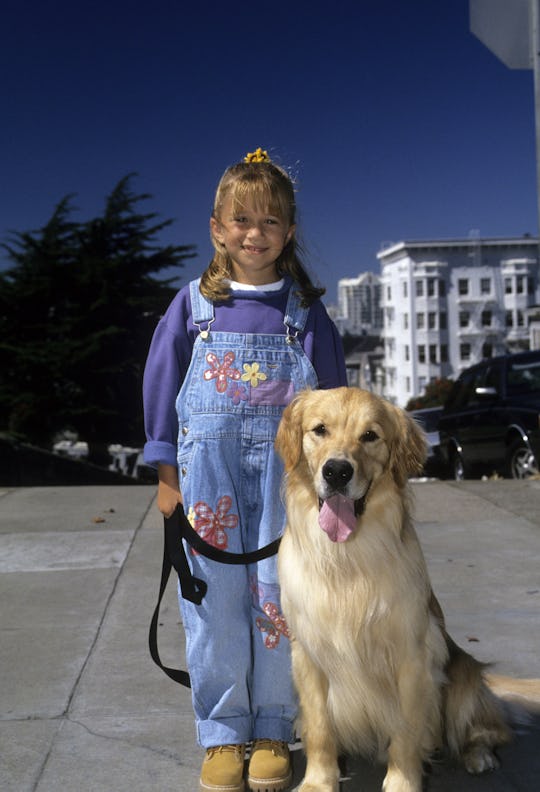 ABC Photo Archive/Getty Images
What Happened To Comet? The 'Full House' Dog Lived a Full Life
Oh, Comet. Any Full House fan can attest to the fact that one important Tanner family member was four-legged. While no one could expect Comet the Golden Retriever to be in Full House revival Fuller House — it's been two decades, and dogs usually live half that time — some fans may still be wondering what happened to Comet, especially after seeing an almost-identical pup make his debut in the trailer for Fuller House.
Unfortunately, the cutest member of Full House — fine, arguably on par with Michelle Tanner — passed away in 1998, according to The Spokesman Review. Buddy had synovial cell sarcoma, a rare form of cancer, and his leg had been amptutated six months earlier in an attempt to save him. Luckily, he lived out his remaining days peacefully and died in his sleep in his San Diego home.
Full House wasn't the pinnacle of Buddy's work, however. After the series shut down shop in 1995, Buddy went on to star in the Disney movie Air Bud. Whether the movie was actually good or not remains questionable — even when I was younger I'm pretty sure I thought it was bad — Buddy's skills were amazing. Comet definitely did not utilize the full extent of Buddy's acting range, since he could apparently shoot hoops (much) better than I can.
Shortly after Disney wrapped up Air Bud, Buddy lost his leg to cancer. But even with only three legs, owner Kevin DiCicco told The Spokesman Review that Buddy was still dunking basketballs, catching baseballs, and stopping soccer balls. He died aged approximately nine or ten years old, though his exact age is unknown because he was found as a stray by his owner. (If that's not the most adorable rags-to-riches story you've ever heard of, you're heartless.)
Fans are having Comet feels all over again as they prep for Fuller House by binge-watching all of the old Full House episodes. It's safe to say their reactions encapsulate the full span of emotions:
The overwhelming feeling I'm getting from Twitter is that Comet will be even more missed than the Olsen twins in Fuller House. That's not an easy thing to pull off, especially for a character who didn't even speak. I think it's safe to say Buddy left a pretty big legacy behind.
As for who the new puppy in Fuller House is, that remains to be seen. My guess? One of Comet's descendants. (This could even be true in real life, considering that Buddy was survived by nine little pups. I'm calling it now!) Either way, I'm sure the new guy will win over people's hearts ASAP. He's too cute not to.