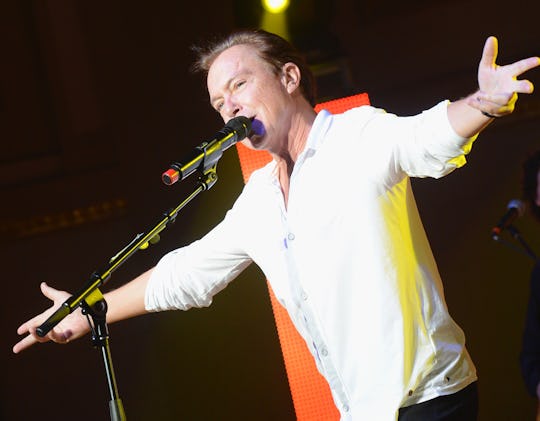 Rick Diamond/Getty Images Entertainment/Getty Images
What Happened To David Cassidy? The Actor Is Currently In Critical Condition
David Cassidy — known for his role as Keith Partridge in the musical sitcom the Partridge Family — is reportedly in organ failure at a Florida hospital. The 67-year-old former teen heart throb has experienced an ongoing decline in health since he was rushed to the hospital earlier this week. But what happened to David Cassidy? Because he's in critical condition and in need of a liver transplant. Like, now.
On Saturday, Cassidy's rep, Jo-Ann Geffen, confirmed to CNN that, "he is conscious and surrounded by family and friends, nothing is imminent and we are taking it day by day." Geffen did not go into detail about what caused his organ failure. A source also tells Us Weekly that the actor-singer is suffering from both kidney and liver failure. "He is hoping and waiting for a liver transplant, if he happens to get one in time, the prognosis is still up in the air," the source said. "His son, ex-wife Sue and brother Patrick are there now. One of his brothers are en route." The source continued:
He was in an induced coma, but as of right now is conscious. He is on pain medication to keep him comfortable. He is in out of consciousness. He is receiving an outpouring of support and everyone is praying for his recovery.
In February, Cassidy revealed to People that he had been diagnosed with dementia — a disease that both his grandfather and his mother battled. "I was in denial, but a part of me always knew this was coming," the actor said. Cassidy had the heartbreaking experienced of watching his mother, Evelyn Ward, struggle with dementia until she passed away at age 89. "In the end, the only way I knew she recognized me is with one single tear that would drop from her eye every time I walked into the room. … I feared I would end up that way," he told People.
Shortly after Cassidy's own diagnosis, he made the decision to stop touring as a musician and instead, focus on his own health and happiness. He told People:
I want to focus on what I am, who I am and how I've been without any distractions. I want to love. I want to enjoy life.
This decision to halt touring came after Cassidy had forgotten lyrics to one of his hit songs earlier in February — and had nearly fallen off stage. "When friends of yours or family members begin to say to you, 'Remember, I just told you this two days ago,' and there's no memory of it, that's when I began to be very concerned," Cassiday told Dr. Phil, according to Us Weekly.
Although it isn't clear what has caused Cassidy's current organ failure, the actor-singer has been open about his ongoing struggle with substance abuse. CNN reports Cassidy was arrested for DUIs in 2010, 2013 and 2014. "I am most definitely an alcoholic," Cassidy said in a 2014 interview with Piers Morgan, the new outlet reported. "And the interesting thing about it and the way you end up with multiple DUIs — I never got arrested for anything until I was basically 60 years old. And I have very, very strong values about what I am and who I am."
Twitter has been quick to send thoughts and prayers for Cassidy and his family. "Sad to hear that. Huge part of my youth," one Twitter user responded. "Thoughts and prayers with David, his family, and his friends. Enormously sad at this news."
"Prayers for you David," another person tweeted. "Had the biggest crush on him in junior high. God bless him and his family."
Variety deputy editor, Pat Saperstein, took to Twitter as well, writing, "Thinking good thoughts for David Cassidy, who appears to be near death. Love this vintage photo."
My thoughts are also with Cassidy and his family during this extremely difficult time.
Check out Romper's new video series, Romper's Doula Diaries:
Watch full episodes of Romper's Doula Diaries on Facebook Watch.