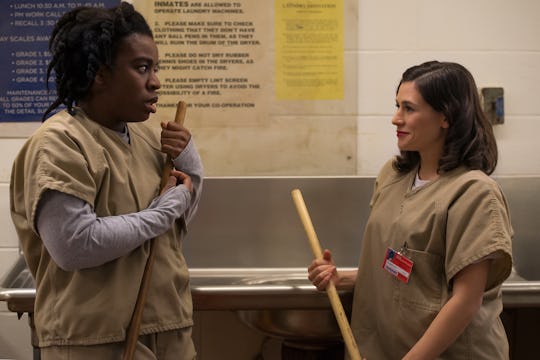 JoJo Whilden/Netflix
What Happened To Dylan On 'Orange Is The New Black' Season 4? Suzanne's Past Is Revealed
(Warning: This post contains spoilers from Orange Is the New Black Season 4, Episode 11.) A lot was revealed for Suzanne "Crazy Eyes" during Season 4 of Orange Is the New Black. Most importantly, we saw a strong glimpse of an important — albeit damaging — moment for her when a little boy fell from her fire escape, and presumably died. But what exactly happened to Dylan on Orange Is the New Black?
Dylan, a young boy who Suzanne had made friends with at her work as a greeter at a store, was at a park one day when Suzanne, innocently, approached him. Suzanne is much less emotionally mature than someone of her real age, which is why she probably identified with Dylan. Suzanne invited Dylan back to her home to play video games, which he did, but then things took a turn for the worse. Dylan started to feel uncomfortable when Suzanne didn't understand he wanted to call his dad. Instead, Suzanne insisted the two played with her cape collection. But, when Suzanne returned with the always-classic black cape, it was revealed that Dylan called 911.
At first, Suzanne didn't realize that Dylan had called 911 because he was scared of her. She thought that he was just being a kid who didn't know you're not supposed to call 911 without an emergency. But, when Suzanne realized that Dylan was afraid of her, she started to chase him around the apartment, and stop him from leaving. It was obvious she didn't realize the amount of fear she was instilling in the kid, until he climbed onto her fire escape to get away from her. Unfortunately, he fell backwards, and it is alluded to that he died.
Now, while fans can't say if he actually died or not, we can assume that child endangerment and kidnapping might have something to do with Suzanne's prison sentence. It is also obvious that it is quite the trigger for her, as this memory, paired with Season 4 plot lines, have created quite the storyline for Suzanne this season.