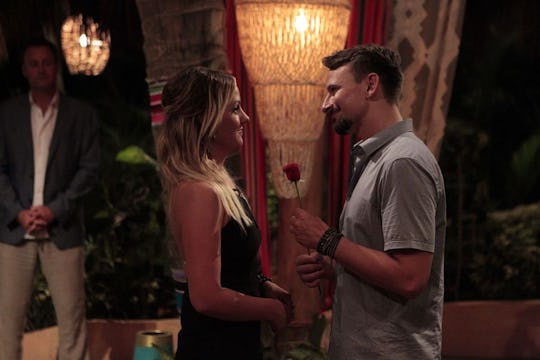 Rick Rowell/ABC
What Happened To Evan On 'Bachelor In Paradise'? Medics Were Called
Things can get kind of wild on Bachelor in Paradise. That might have been the case on Monday's episode, since after playing drinking games with Carly, Sarah, and Daniel, Evan ends up with medics getting called to his room to check his vitals. So what happened to Evan on Bachelor in Paradise? It seems like a mixture of medication and heavy drinking took its toll on the poor guy.
Evan seemed to be having an okay time in his little foursome, and didn't even seem particularly drunk when they called it a night. He went back to his room (following an awkward parting interaction with Carly, in which neither of them could decide whether they wanted to kiss or not) and, like most of us after a rousing game of "take a drink every time Daniel says 'right,' 'eh,' or 'ya know,'" promptly passed out. For whatever reason, a production assistant on set decided that Evan was in a dangerous situation and went to try and wake him up. Evan was technically non-responsive, but also he could have just been out really cold.
Producers tell Carly and Sarah that Evan is having "a little medical issue" and she promptly rushes over to check on him. The PA calls a medic and the next time we see Evan, he's hooked up to machines checking his vitals, but awake, and insisting that he's fine. Carly asks what they can do for him and the medic suggests that someone should monitor him for the night.
Sarah can't get out of the room fast enough, so Carly is stuck babysitting, which she doesn't seem to want to do, even though she practically rolled her ankle hustling over to his room.
Evan chalks up passing out to a mixture of his meds, which he admits had him feeling loopy that day, and the heavy drinking. (But also, it was late at night and he just seemed really fast asleep?) Carly ultimately agrees to stay with him, and Evan — of course — seizes an opportunity to pull her into his bed and kiss her. She's not really into it, but they're both sending each other major mixed signals at this point, so their whole "will they or won't they" is awfully self-imposed. Evan's health may continue to deteriorate, however, since a sneak peek at next week's episode shows him in an ambulance with a horribly botched IV injury. We'll have to stay tuned to find out exactly what's going on with his medically unfortunate Bachelor run.