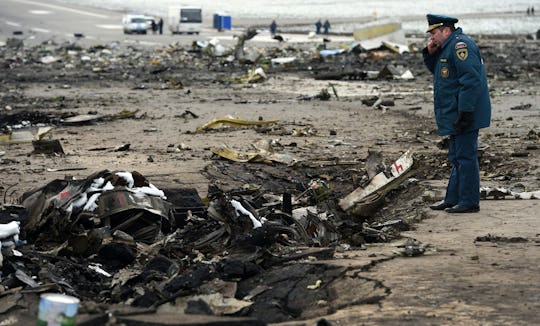 VASILY MAXIMOV/AFP/Getty Images
What Happened To FlyDubai Flight FZ98? Crash Prompts Several Questions
On Saturday, a FlyDubai plane crashed while attempting to land in Southern Russia, killing all 62 people on board. The tragedy is the second of its kind in the past six months, prompting officials to take a closer look at possible causes. Though terrorism has been ruled out, no one is quite sure yet what happened to FlyDubai Flight FZ98.
According to authorities, the flight was returning from Dubai, carrying mostly Russians who'd gone on holiday. It arrived at Rostov-on-Don airport amidst dangerous weather conditions, and the pilot abandoned a first attempt to land due to poor visibility and strong winds. On the second attempt, two hours later, the plane missed the runway and caught fire. According to NBC, the Russian Investigative Committee said that "the plane touched the ground and fell to pieces."
Investigators ended their unsuccessful search for survivors on Sunday, moving on to body identification and attempting to determine the cause of the crash. CNN reported that, after ruling out terrorism, the Russian Investigative Committee planned to look into weather conditions, technical issues, and human error as possibilities for the crash in an investigation that, by law, is required to take at least two months.
By Sunday, investigators had determined that the pilot and co-pilot were well-qualified, both having had nearly 6,000 hours of flight experience, according to the airline. Investigators have salvaged two flight recorders from the wreckage in hopes of downloading the voice recordings and flight data they contain, but authorities added that the recorders are "severely damaged."
According to governmental news agency TASS, the Southern Rostov region declared Sunday a day of mourning. "State flags of Russia, flags of the region and municipalities will be flown at half-mast across the region. An event dedicated to the memory of the victims will be held outside the international terminal of the Rostov airport," a regional official said. The crash site has become an unofficial shrine, with hundreds of people leaving flowers, along with toys honoring the four children who died on the plane.
On October 31, 2015, Russia experienced a similar tragedy when a flight coming from Egypt crashed in the Sinai desert on its way to St. Petersburg, killing all on board. Isis claimed responsibility for that crash, and Russian official said they believed the flight was brought down by a bomb, though Egyptian investigators disagreed.
Hopefully, investigators will soon be able to identify the cause of the Flight FZ98 accident, and will prevent heartbreaking crashes like this one from happening in the future.