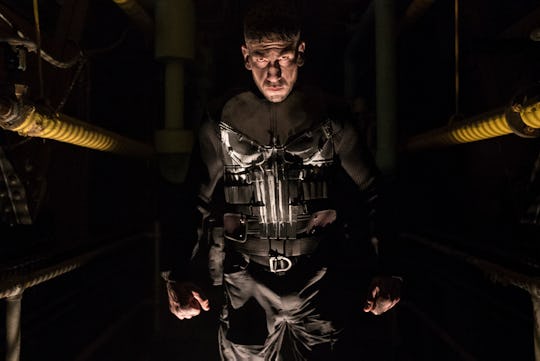 Jessica Miglio/Netflix
Frank Castle Was Haunted By His Past Long Before 'The Punisher'
The Punisher, Netflix's newest addition to the Marvel TV landscape, continued the story of Frank Castle after his exit from Daredevil at the end of Season 2. Knowing where Frank came from was important to understanding how he turned from loving father to violent killer, a journey that began long before he crossed paths with Matt Murdock. But what happened to Frank Castle before The Punisher? He was already dealing with intense trauma when he made his first appearance on Daredevil, and it weighed on him throughout the second season.
Matt Murdock first encountered Frank as an antagonist. Though both of them had a similar goal in wanting to eradicate crime, there was one line that Matt wouldn't cross: he would never kill anyone no matter how deserving of it they might be. The Punisher had no such qualms. Despite this difference of opinion, a grudging respect formed between Matt and Frank; Matt even defended Frank when he was arrested and put on trial for murder. Matt's efforts weren't enough to keep Frank from prison, but he didn't stay there for long: he was eventually sprung from the joint thanks to the intervention of kingpin Wilson Fisk. Frank was then able to continue the mission he'd had from the very start.
Though Frank may not have been eager to reveal it to the other characters on Daredevil, he had one singular motivation throughout the entire series. It informed everything about who he had become: his recklessness, his craving for violence. All of his actions sprang from one horrifying event that turned him from Frank Castle into the Punisher, but it took the dedicated investigating of Karen Page to figure it out, forming the basis of a relationship that would continue into The Punisher.
Before Daredevil, Frank had been a decorated soldier and a happily married man with two kids. He was a war hero who had just been reunited with his family when the unthinkable occurred: his wife and children were gunned down in Central Park just one day after Frank's return. They had been caught in the crosshairs of a fight between three different gangs. Frank was the only one to survive, though a shot to the head could have easily cost him his life, and he became consumed with a desire for revenge.
The shoot-out had been the result of a sting operation gone wrong. The D.A.'s office had been trying to learn the identity of a drug lord going by the name "the Blacksmith," but when the Blacksmith didn't show up at the predetermined time, the three gangs waiting in Central Park started shooting. Frank and his family had simply been in the wrong place at the wrong time. Despite that, Frank's connection to the Blacksmith ran deep, though he didn't know that until he found out the man's identity.
The Blacksmith was actually Colonel Ray Schoonover, Frank's commanding officer from his time overseas. Karen realized the truth first because of some incriminating photos on Schoonover's wall, but Frank was quick to follow. He killed Schoonover and then took advantage of his personal armory to stock up on guns and gear. He had done what he set out to do, bringing his arc on the show to a close. But before exiting Daredevil for good, Frank helped out in the fight against the Hand, delivering a few last minute shots that saved Matt's life.
After that, it was time for Frank to leave and continue his crimefighting elsewhere. His time on Daredevil had allowed him to confront his past and begin to move on, though the next phase of his story had only just begun. Frank had had his revenge, but he's not done being the Punisher.
Check out Romper's new video series, Romper's Doula Diaries:
Watch full episodes of Romper's Doula Diaries on Facebook Watch.