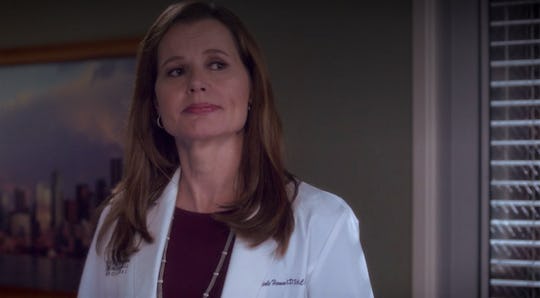 Netflix
What Geena Davis' Return To 'Grey's Anatomy' Could Mean For Arizona
One of Grey's Anatomy's most beloved guest stars is returning to her role this season, presumably to see off her former protégé Arizona Robbins, who will be written off the show at the end of Season 14. But fans who are a little fuzzy on her 12-episode guest arc back in Season 11 may be wondering: what happened to Geena Davis' character on Grey's Anatomy? Dr. Nicole Herman survived a harrowing brain surgery, but suffered a big loss, too.
Fans were first introduced to Dr. Herman as the Head of Fetal Surgery at Grey-Sloan Memorial back in 2014. She suggested Arizona, then the Head of Pediatric Surgery, apply for a fetal surgery fellowship with her to learn a more challenging and specialized skill. Arizona agreed, somewhat reluctantly, and proceeded to get her butt kicked. Herman was super hard on both of her fellows and Robbins struggled to keep up with the workload.
Eventually, it came out that the reason Herman was being so tough was because she had a very limited time left to teach Arizona all the things she knows: she had an inoperable brain tumor and a short time left to work. In exchange for not telling the board about Herman's brain cancer diagnosis (which definitely would have disqualified her from doing delicate fetal surgery), Robbins got to be her star pupil. Herman was one of the only doctors doing her surgical techniques and by teaching them to Arizona, she ensured that her student would also be one of the most prized fetal surgeons in the country.
After a tumultuous start to their relationship, Arizona finally began growing attached to Herman once they shared this secret. She covertly showed her mentor's brain scans to Amelia Shepherd, Head of Neuro, and asked if she saw any way for the tumor to be removed. Amelia thought she could do it, but Herman felt upset by the betrayal. She'd made peace with death and was irritated that her colleagues were foolishly trying to give her hope, just to be disappointed all over again. But eventually, Dr. Herman agreed to the risky tumor excision.
She survived the tense surgery, and Amelia had successfully removed the tumor, but Dr. Herman didn't wake up for several days afterward. Shepherd grew nervous and ordered MRIs, which revealed Herman may have had a stroke. Amelia worried that Herman would never wake up from her coma, but she did. Unfortunately, the tumor, which had invaded her optic chiasm, left her without the ability to see. Her vision loss was permanent.
The last we saw of Dr. Herman was as she packed up for admittance to the Blind Institute, where she would learn how to adapt to life with her disability. In the end, even though she had been upset with Arizona for pushing treatment onto her, Herman confided that she was grateful for her new lease on life. She later texted Arizona, "Enjoying Blind Institute. Learning how to not bump into things. Not typing this obvi. Don't kill any babies."
Arizona, obviously, excelled in Fetal Surgery and took over Dr. Herman's position, but we haven't seen her mentor since. Jessica Capshaw is leaving Grey's Anatomy at the end of this season, which leaves fans speculating that Herman may be returning in connection with that storyline. According to Deadline, the logline for the episode in which she returns reads, "Nicole Herman pays a visit and talks to Arizona about an exciting opportunity." Might that be where Arizona is heading next? Stay tuned to Grey's on May 10, when Davis is set to return, to find out.