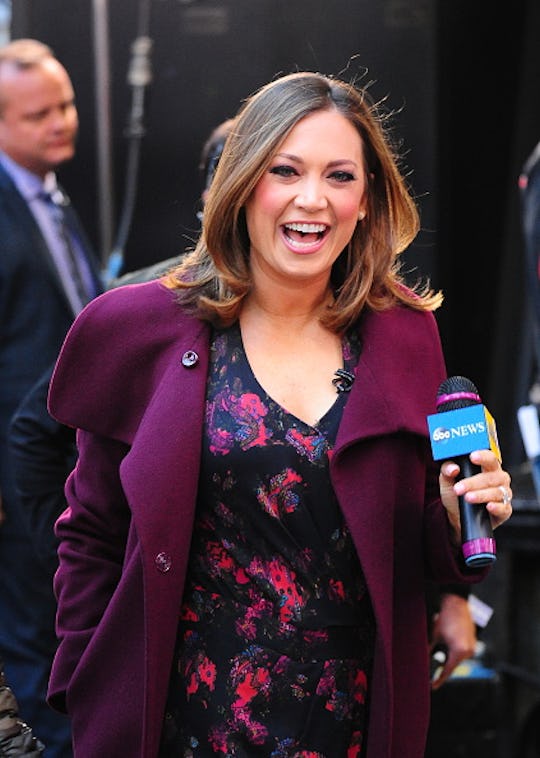 Getty
What Happened To Ginger Zee On 'Dancing With The Stars?' Her Injury Didn't Stop Her
Just days before the finale on Dancing With the Stars, it was reported that Ginger Zee had suffered a serious injury that could prevent her from even competing. Nothing can stop our Ginger, however, and because this lady is a serious trooper, she managed to pull it together to perform anyway, even though the doctor did not allow her to perform some of her moves. Despite her injuries, Ginger and partner Val Chmerkovskiy scored 9s from Carrie Ann Inaba and Bruno Tolioni, and a 10 from Len Goodman. That's the way to tough it out through an injury!
It appears that Ginger suffered a pelvic injury which was giving her back spasms. Due to having recently given birth, Ginger's pelvis is a little loose, and not necessarily up for all those crazy dance moves Val has been throwing at her. At the very least, her recent pregnancy certainly threw her a curveball. On Sunday, she admitted that she was nowhere near as ready as she wanted to be for Monday's finals, and wasn't even able to make it to two of her dress rehearsals. Oh, baby girl it's just a TV show, don't kill yourself! But Zee was back on the dance floor, smiling and ready to go on Monday night's finals. After receiving their scores, Val said that while the back spasms were a problem,"We don't want to make any excuses," which, to be honest, feels a little hardcore for me.
I mean, I get the whole "no excuses" idea in theory, but must we be so draconian about it? Personally, I love a good competition, but I don't necessarily want to sacrifice my whole body for it. But then again, I am not that big on working out or really anything physical. So maybe this is my personal problem.
In any case, I have nothing but respect for Ginger, who has a serious shot at winning this thing, injury and all. We already got a glimpse of Ginger's dedication to the competition, considering her full-time job at Good Morning America that she has to commute cross-country for, oh and the months-old baby at home. She's been a favorite to win since the beginning, and I can't wait to see how all that work paid off!