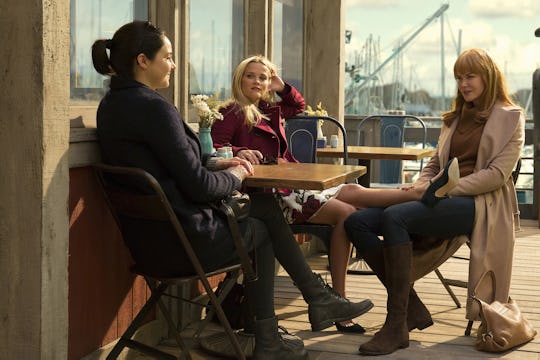 Hilary Bronwyn Gayle/HBO
Jane Has A Troubled Past On 'Big Little Lies'
Big Little Lies premiered on Sunday night, and fans already have a ton of questions. Of course, our biggest concern is who the heck was killed and why. I mean, this is a group of parents, what could've gone so wrong? Our next question is why these parents dress up so well for a regular school function. (Just kidding.) Our actual next question is in regards to Jane and her mysterious past: what's her story? Played by Shailene Woodley, Jane is a young mother with sadness in her eyes. So what happened to Jane on Big Little Lies? Her flashbacks indicate a troubled past.
Jane Chapman just moved to Monterey. She's a single mother with her son, Ziggy, who's starting first grade. By a twist of fate — and Madeline Martha Mackenzie's ankle — she met Madeline, who immediately took her under her wing. It just so happens that Madeline's daughter, Chloe, is also starting the first grade. Ziggy and Jane were nervous about him starting a new school, but Madeline and Chloe seemed to put them at ease. At the end of the day, Ziggy even told Jane he made friends.
That is, until fellow first grader Amabella said that Ziggy choked her during the school day. Amabella's mother, Renata, instantly went into full-on attack mode. One of the unnamed mothers interrogated in the flash forwards said that there's no "right" little girl to choke, but Amabella was the "wrong" girl because of Renata. After that, we know Jane and Ziggy won't have an easy time adjusting to life in Monterey.
There's something else, too, that hints at Jane's struggle. During a scene partway through the episode where she's running, she experiences troubling flashbacks. We see a woman, presumably Jane, running on the beach. She's barefoot, but there are also prints from men's shoes alongside them. The woman's dress is torn; at the end of the scene she halts in front of the beach. The flashback then cuts to Jane splashing cold water on her face. Could this indicate she was once sexually assaulted? Is that how Ziggy came about and why the father has no part in either of their lives?
Jane's run and coinciding flashback came after Madeline asked about Ziggy's father and talked about how great the people of Monterey are. Furthermore, Jane and Celeste seemed to share a knowing look as if they both understood what it was like to carry around a dark secret. Could all these elements be connected? Whatever the case, it's clear that Jane has a history that she hasn't divulged yet and I have a feeling it's going to be full of sorrow.