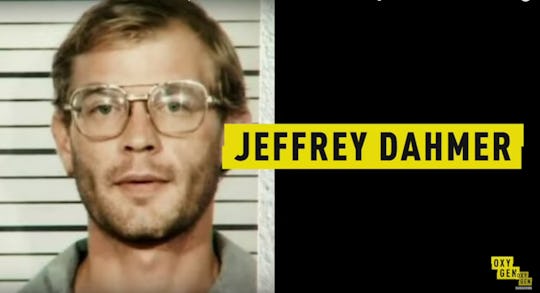 Oxygen
Here's What Happened To Jeffrey Dahmer
On Nov. 11, Oxygen will be airing a two-night special called Dahmer on Dahmer: A Serial Killer Speaks that delves into the life of notorious killer Jeffrey Dahmer. It follows quickly on the heels of the newly released film My Friend Dahmer, which explores Dahmer's teenage years and takes its inspiration from the graphic novel of the same name. All this increased focus might have you wondering what happened to Jeffrey Dahmer in real life — before, during, and after the crimes that made him so infamous.
Dahmer was arrested in 1991 and confessed to 17 murders that he had committed over the course of 13 years. He targeted young men and boys, and his crimes were horrific and brutal. He raped and tortured his victims, then dismembered and cannibalized their bodies after he killed them. Dahmer on Dahmer takes viewers through his life using the interviews he did with journalist Nancy Glass, who spoke extensively with Dahmer before his 1994 death and also conducted his first televised interview.
In addition to her insight, the Oxygen special will speak with several important figures in the case, many of whom have not discussed the events publicly in years. Dahmer's parents Lionel and Shari will be among those featured, as well as surviving victims Billy Capshaw and Preston Davis.
Growing up in Ohio, Dahmer reportedly had a difficult childhood that left him withdrawn and unable to connect emotionally with others. He was allegedly sexually abused by an older boy when he was a young child, and he also felt neglected and abandoned by his parents. He became fascinated with taxidermy and animal corpses, once leaving the severed head of a dog on a spike in the woods (something no one in town knew was connected to Dahmer until much later). He didn't fit in with the other kids at his high school, in part because he often engaged in strange behavior, like faking seizures.
Dahmer killed his first victim just a few weeks after his high school graduation. He bludgeoned and strangled 19-year-old hitchhiker Steven Hicks, then scattered Hicks' remains in the woods. Dahmer was also drinking heavily at the time, something that continued for years. He dropped out of college and joined the Army, but was honorably discharged for alcoholism in 1981. He moved in with his grandmother in Milwaukee, and it was at his grandmother's house that he murdered his next three victims: 25-year-old Steven Tuomi, 14-year-old James Doxtator, and 22-year-old Richard Guerrero.
Dahmer's grandmother was seemingly unaware of what he was doing, though she did ask him to move out because of the young men he brought home late at night and the strange smell coming from the basement and garage, which Dahmer attributed to his taxidermy hobby. He moved into his own apartment, where the murders continued.
It's shocking to hear just how many times Dahmer came close to being caught. He had been arrested for indecent exposure. He was convicted of picking up a 13-year-old boy and trying to solicit nude photographs from him. One of Dahmer's victims, 14-year-old Konerak Sinthasomphone, actually escaped from the apartment, naked and bloodied; he had been drugged by Dahmer and a hole had been drilled into his skull in which Dahmer injected hydrochloric acid in an attempt to make the young boy easier to control.
However, once the police arrived, Dahmer was able to convince them that Sinthasomphone was of legal age and that they were merely a couple having a fight. The police declined to investigate further. They even walked Dahmer and Sinthasomphone back into the apartment, where another deceased victim still remained in Dahmer's bedroom. In 1991, one of those officers told The New York Times, "We're trained to be observant and spot things. There was just nothing that stood out, or we would have seen it. I've been doing this for a while, and usually if something stands out, you'll spot it. There just wasn't anything there."
Dahmer was eventually apprehended when Tracy Edwards was able to escape and wave down a patrol car. That was when the horrors inside Dahmer's apartment were discovered. According to TIME, the police found human remains and severed heads in Dahmer's fridge and freezer, as well as in a filing cabinet and in a kettle on the stove.
Dahmer confessed and pled guilty to 15 counts of murder. He was sentenced to life in prison but was beaten to death in 1994 by fellow prisoner Christopher J. Scaver.
Check out Romper's new video series, Romper's Doula Diaries:
Watch full episodes of Romper's Doula Diaries on Facebook Watch.