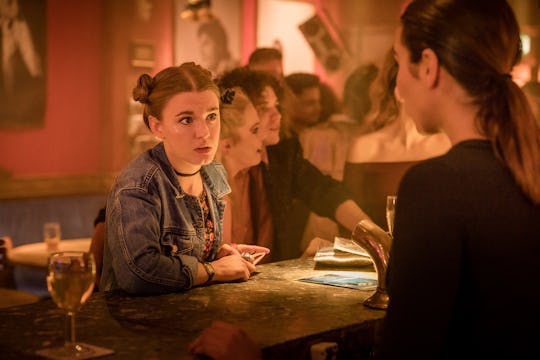 Ben Blackall/Netflix
Jenny's Disappearance On 'Safe' Is Shrouded In Mystery
Safe is the latest thriller series to make its way to Netflix and it looks like it'll be a good one. The series was created by New York Times bestselling author Harlan Coben, who also created the British series, The Five. Similarly to The Five, Safe is centered around a young teen named Jenny who goes missing and follows Jenny's widowed father, Tom, as he tries to get answers about her disappearance. So naturally, fans will undoubtedly find themselves asking: what happened to Jenny on Safe?
Because the series is a mystery there's obviously not too much information out there about what happened the night Jenny disappeared. Based on the trailer, it looks like she went to a party in her gated community and then never came home afterwards. In the promo photos, it looks like Jenny somehow ends up at a bar that night as well. Besides that though, there's not a lot of details to go on for the time being.
Here's what fans do know going into the series, though. Tom is raising Jenny and his younger daughter in this community because it's supposed to be "safe," hence the show's title. Obviously, Tom quickly learns that's not the case. Jenny and Tom have an strenuous relationship, which could just be chalked up to Jenny being a teen or it could be something more. Additionally, along with the mystery of Jenny's disappearance, there also seems to be a bit of mystery around the death of Tom's wife, Rachel.
Apparently, Tom has some unresolved guilt surrounding the night his wife died and one has to wonder if that's why Jenny was becoming more and more estranged from her father. Maybe she knew something she wasn't supposed to — though, if that's the case, wouldn't Tom be the one to make Jenny disappear? I suppose anything is possible.
Tom is also involved in a new relationship at the start of the series, however, the show's description doesn't give much information on his romantic interest. That said, based on the trailer, it looks like Tom will become involved with Sophie, the detective assigned to Jenny's case. Surely that won't get really complicated and messy.
The show's synopsis also reveals that, before she went missing, Jenny uncovered a secret that could "blow families and a community apart." Perhaps whatever happened to Jenny or whatever she learned that night is the reason why she disappeared. Maybe someone was so desperate to make sure the secret didn't get out, they got rid of Jenny.
Hopefully that's not the case and Jenny will be found alive, but realistically, there's a good chance this won't end well for her. Still, at this point it's totally possible the story could somehow result in a happy ending, but I wouldn't get my hopes up. It's much more likely that this kidnapping case will turn into a murder investigation, and this quiet little community is about to be flipped upside down. The only real question is who will be left standing once the dust settles?
Safe stars Emmy-nominated actor Michael C. Hall as Tom, Sherlock star Amanda Abbington as Sophie, and Amy James-Kelly as Jenny. Though you may recognize Hall from his starring role in Dexter, you may not recognize his voice as he dons an English accent for the role. The series also features Hannah Arterton, Louis Greatorex, Raj Paul, Joplin Sibtain, Hero Fiennes Tiffin, and Freddie Thorp.
To find out what happened to Jenny, make sure to watch Safe, which is currently streaming on Netflix. Trust me when I say that you won't want to miss this!