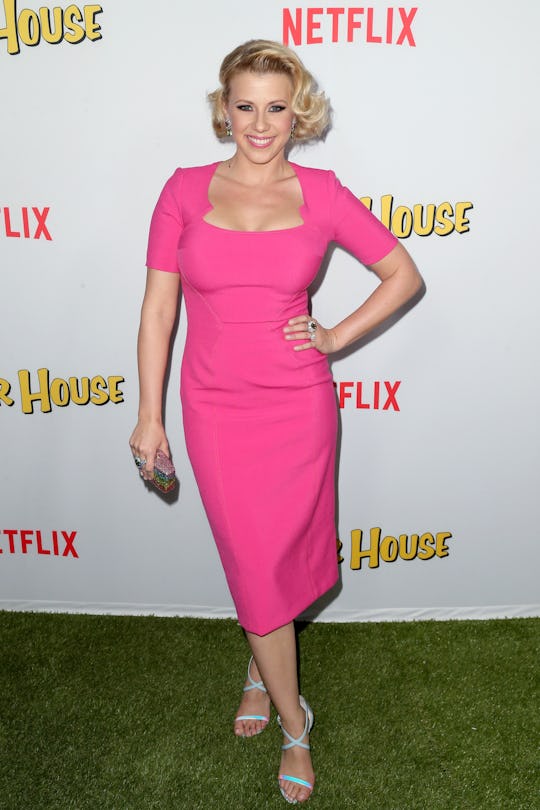 Frederick M. Brown/Getty Images Entertainment/Getty Images
What Happened To Jodie Sweetin On 'Dancing With The Stars'? She Hit A Speed Bump
Jodie Sweetin is not having the best week of her life right now. To be honest, this week has been kind of the worst. Monday's live show has a big question mark on it for the Fuller House star, since Sweetin has garnered not one, but two injuries during preparation for the Recreation Week. So what happened to Jodie Sweetin on Dancing with the Stars?
It started on the Tuesday following the partner switch-up week, while rehearsing for Monday's show, in which the stars and their partners recreate an iconic dance routine. While practicing a difficult lift, Sweetin's partner Keo Motsepe accidentally clocked her in the nose. She yelped in pain and had to walk off the floor to tend her wound. It was a setback, but not so much that she couldn't tough it up and work through her pain.
But it got worse on Thursday. As #TeamMoSweet attempted an insane maneuver in which Sweetin essentially tries to swing Motsepe's entire body over hers, the pair fumbled and Motsepe fell right on top of Sweetin's out-turned ankle. "Oof" is an understatement.
Sweetin and Motsepe were practicing their routine based on Pink's gorgeous and extremely acrobatic performance to her song "Try," that she performed at the 2012 Video Music Awards. The routine perfectly interprets the lyrics of the song. "Where there is desire there is gonna be a flame. Where there is a flame someone's bound to get burned," she sings, as she and her partner essentially fling one another across the stage, in a manner that's both semi-violent and semi-erotic. While covered in multicolored dust. Naturally. Pink, of course, made the whole thing look effortless, giving me a whole new respect for her athleticism. And watching Jodie Sweetin, not a professional dancer, work her ass off to perform this kind of gymnastics gives me a whole new respect for her too.
The video shows the whole horrifying crash, from the careful set up, the measured "one, two, three's" from the choreographer, right until the tumble at the end and Motsepe's unfortunate landing right on Sweetin's foot. She screamed. I screamed. Motsepe looked terrified. And I was left shouting, But what about Monday's show? at my computer screen.
Hopefully Sweetin will be able to perform Monday to stay in the running. She's been performing well, and scoring decent, if mediocre marks, but she is nowhere near as high in scores as some of her competitors including Ginger Zee, Wanya Morris, and Nyle DiMarco, who have been dominating the leaderboard. A good score this week could keep her in the running. But what happens if she can't dance? Will she have to quit? Fingers crossed #MoSweet finds a way to make it to the stage on Monday.