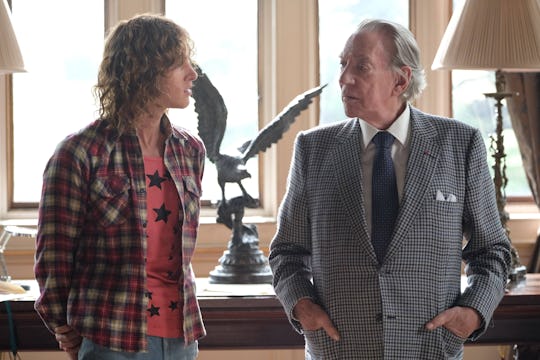 Oliver Upton/FX
The New FX Series 'Trust' Depicts The Kidnapping Of John Paul Getty III
The new FX series Trust revolves around the Getty family, an immensely wealthy dynasty who made their money in oil. When 16-year-old John Paul Getty III was kidnapped in 1973, one might have thought the $17 million ransom would have been a drop in the bucket for patriarch J. Paul Getty, who was known to be the richest man in the world at the time. But he refused to pay, so what happened to John Paul Getty III?
Paul (as he was called) had been living in Italy, where his father managed the Italian branch of the Getty oil company. TIME reported that after Paul was kidnapped, his mother Gail Getty Jeffries received a note from him. In it, Paul told her that he had "fallen into the hands of kidnappers" and begged her not to let him be killed. "Make sure that the police do not interfere," he wrote. "You must absolutely not take this as a joke... Don't give publicity to my kidnapping."
Despite Paul's pleas, many did not take the situation seriously. According to TIME, he had previously made jokes about being kidnapped so that he could collect the money because he was always running out of cash. However, as the situation escalated, the police were forced to treat the matter with the gravity it deserved.
After four months in captivity failed to produce the millions Paul's kidnappers were after, their threats increased. They cut off one of Paul's ears, as well as some of his hair, and mailed it to a local Italian newspaper with an ominous message and a new demand for $3.2 million. "This is Paul's ear," the letter read, according to Rolling Stone. "If we don't get some money within ten days, then the other ear will arrive. In other words, he will arrive in little bits." The wound later became infected, making Paul very ill.
Eventually J. Paul agreed to pay a further reduced sum of $3 million, with $2.2 million coming from him and the last $800k provided as a loan to Paul's father that would be repaid with interest. Paul was found shortly after at a gas station in the Italian countryside. According to The New York Post, nine members of the 'Ndrangheta mafia were arrested for the kidnapping, with only two convicted. A portion of the ransom was recovered, but not all of it.
Paul went on to marry Gisela Martine Zacher and have a son, actor Balthazar Getty. But the effects of Paul's ordeal were long-lasting: he dealt with addiction as a result, and later suffered a drug-related stroke in 1981 that left him quadriplegic.
Even ahead of its release, Trust has caused some controversy because it depicts Paul as instrumental in setting up the kidnapping, even though the situation quickly got out of hand. As a result, the Getty family has denounced the series. A letter from Ariadne Getty's lawyer Martin Singer was reproduced in The Hollywood Reporter and read, in part:
It is ironic that you have titled your television series Trust. More fitting titles would be Lies or Mistrust, since the defamatory story it tells about the Gettys colluding in the kidnapping is false and misleading, and viewers rightly ought to mistrust it.
He went on to say:
You are using a false version of the Getty family tragedy for entertainment for your own financial gain. This is indeed ironic, since one of the themes of Trust is to portray my client's family as greed-driven.
By presenting the theory that Paul was involved in his own kidnapping, Trust might not be entirely accurate. Any adaptation of real events must be treated as fictionalized to some extent, and curious viewers can see how they feel about the show when it premieres on March 25.
Check out Romper's new video series, Romper's Doula Diaries:
Watch full episodes of Romper's Doula Diaries on Facebook Watch.