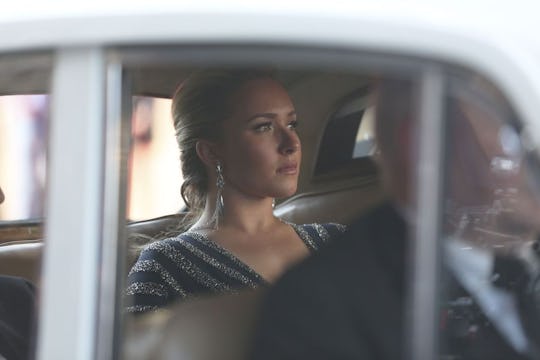 ABC
What Happened To Juliette On 'Nashville'? The Plane Crash Leaves Her In Bad Shape
Last season of Nashville left Juliette Barnes going down in a plane while the series was literally flaming out on its own four-season run on ABC. But thanks to a serious cliffhanger ending and passionate fan campaigning, the series was successfully rescued by cable network CMT, which also opted to revive Juliette's storyline. Hayden Panettiere signed on for Season 5 to stay on in the role of Juliette and CMT aired a sneak peek of the first half of its two-hour premiere on Thursday, December 15. So what happened to Juliette on Nashville? She survived her plane crash — but only just barely.
When last we left Juliette, she was flying back to her hometown from California, to finally reconcile with Avery and reunite with her daughter. But when Avery arrives at the airport, he learns that her plane has gone missing. Season 5 hits the ground running and the premiere opens on Juliette's private plane burning in pieces scattered around a field. A woman who sees the plane go down calls 911, and she quickly discovers that Juliette is still alive and in distress.
The next time we see Juliette is three weeks later, recovering in the hospital. We learn that she was the only survivor of the crash, and although her spinal cord isn't severed, two of her vertebrae were shattered, which leaves her wheelchair-bound for the time being. She can only move one toe, which concerns Juliette, who fears that her body will never repair the nerve damage she sustained in the crash.
In a nightmare Juliette has once she's home from the hospital, we see her experience a flashback to the night of the crash. One of the engines looks like it's on fire, the oxygen mask drops, and Juliette looks terrified before she passes out. When she wakes up from the dream, she demands Avery drive her to the crash site. He takes her immediately (because some things never change, no matter how much a show shakes up), but she doesn't wind up finding anything that makes her feel better until the next morning, when she hears the woman who saved her singing in a church across from the crash site.
It's clear that Juliette is super traumatized by her experience and feeling survivor's guilt to boot. And, per usual, there are cameras waiting outside her house when she returns home, which means that, when they see her in a wheelchair, entertainment media immediately starts speculating as to whether or not she's been paralyzed. It looks like Juliette will spend yet another season under the microscope, which has always been her downfall in years past. It'll be interesting to see how her demons are addressed on a new network and with a new feel to the show.