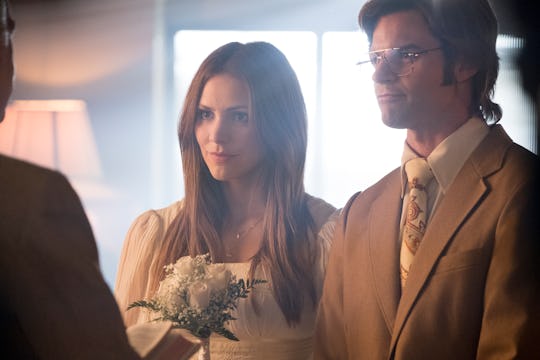 Courtesy of Lifetime
Lifetime Is Diving Into The Mysterious Fate Of Kathie Durst
When The Jinx aired on HBO, it brought renewed attention to the alleged crimes of real estate scion Robert Durst — especially because of the shocking ending where Durst appeared to incriminate himself in multiple murders. But while that docuseries focused on Durst's life, a new Lifetime movie will instead delve into the disappearance of his first wife Kathie. What happened to Kathie Durst remains a mystery, but Lifetime's The Lost Wife of Robert Durst seems like it might attempt to find an answer, even if it is just a fictional take on the story at the end of the day.
The trailer indicated that the movie will explore how Kathie's marriage to Robert became increasingly abusive over the years until she went missing in 1982. Some of that story was told in The Jinx through interviews with Durst. He claimed that the last time he saw her, she was getting on the train to go to New York, but friends and family had their doubts about Durst's version of events. Kathie's body was never found and her disappearance never solved; no one was ever charged in relation to her possible murder or abduction. She was declared dead in 2017, but no one knows what actually happened to her. They can only speculate.
Kathleen McCormack met Robert Durst in the early 1970s after she moved into an apartment building that his family owned on the East Side of Manhattan. Kathie was only 19 years old and was training to be a dental hygienist; Robert was nine years older than her, the son of a real estate mogul. Their relationship progressed quickly (according to The New York Times, Robert asked Kathie to move to Vermont with him on their second date) and they were married in 1973.
For a few years, things appeared to be going well between them, though the turning point seemed to have occurred when Kathie discovered she was pregnant. According to Kathie's brother, Jim McCormack, who spoke about the couple's marriage in an episode of Murder Made Me Famous on the Reelz Channel, Kathie wanted to have children but Robert did not, so he forced her to have an abortion. "I would consider that Kathie turned a corner in her own life," McCormack said. "Emotionally, mentally." After that, their relationship continued to worsen; Kathie's sister Mary McCormack Hughes told the Times that Kathie would call her often to discuss the constant arguing with Robert that began to escalate to physical violence.
Kathie had attended nursing school and then medical school in quick succession, with plans to become a pediatrician. A classmate from nursing school named Eleanor Joy Schwank said to the Times that while she had not personally witnessed any abuse, "Kathie would call me saying, 'Bobby is really violent.'" Just weeks before her disappearance, Kathie went to Jacobi Medical Center to seek treatment for bruises she obtained during a fight with Robert.
Robert was the one who reported Kathie missing. They had been staying in their home in Westchester County and he claimed he'd accompanied her to the train so she could return to the city for school. According to Robert, Kathie called him from their Riverside Drive co-op once she arrived, and that was the last he'd heard of her. That was the last anyone heard of Kathie Durst.
The police never reached a satisfying conclusion about Kathie's fate, but her friends and family considered Robert the prime suspect. ABC News reported that one of Kathie's friends, Eleanor Schwank, remembered Kathie telling her "if anything ever happens to me, don't let Bobby get away with it." Other friends claimed Kathie told them the same thing, as did her sister Hughes, who has since sued Robert for wrongful death. Her lawyer, Alex Spiro, told NBC News in 2015, "He did it, and we can prove it."
But unless someone comes forward with information and evidence, it doesn't seem like the disappearance of Kathie Durst will ever officially be solved.
Watch Romper's new video series, Romper's Doula Diaries:
Check out the entire Romper's Doula Diaries series and other videos on Facebook and the Bustle app across Apple TV, Roku, and Amazon Fire TV.