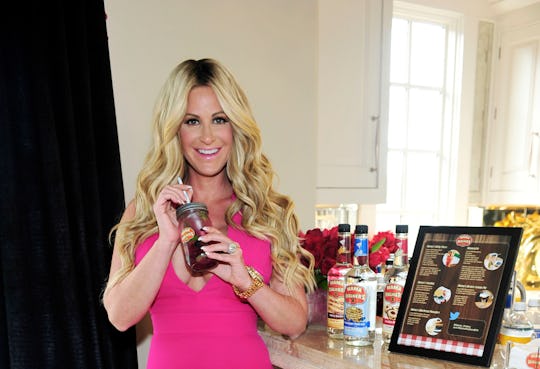 Moses Robinson/Getty Images Entertainment/Getty Images
Kim Zolciak-Biermann's Son Has Been Hospitalized
Kim Zolciak-Biermann and Kroy Bierman have had an intense weekend. As the reality star informed fans on Instagram Sunday afternoon, her family was struck with an unexpected accident that has many wondering what happened to Zolciak-Biermann's son. The 4-year-old just suffered a traumatic experience, one that no kid deserves to go through: According to Zolciak-Biermann's Instagram, her second-youngest son, Kash, was bitten by a dog over the weekend, and was admitted to the hospital for treatment.
Zolciak-Biermann stated that Kash was in an operating room for "a couple of hours" and will need to spend a few days in the hospital to recover. Zolciak-Biermann was expected to appear alongside Andy Cohen on Watch What Happens Live Sunday night, but due to her son's trauma, will have to reschedule her appearance.
Obviously, privacy at a time like this is crucial for families, but we do know quite a lot from the Real Housewives of Atlanta star's Instagram caption, and it doesn't exactly seem pleasant. And as no one wants their children to have to go through something like that, Zolciak-Biermann's decision to cancel her spot on Watch What Happens Live is totally understandable.
Here's what else we know, based on Zolciak-Biermann's Instagram post describing the horrific accident:
I don't know where to start. The last 14hrs of our lives has been a living nightmare. My sweet @kashbiermann was bit by a dog and had very traumatic injuries. I've never prayed so hard, or been so scared in my life.
Zolciak-Biermann and family reportedly own "a rescue mutt named Sinn," according to E! News. However, she did not state what kind of dog Kash was attacked by, or whether it was Sinn.
She continued,
My husband, our daughters, Kj, Tracey, his nanny, Michael Beck and everyone close to us all pulled together and held each other up. Kash was in the operating room for a couple hours and now we are praying for a quick speedy recovery.
Zolciak-Biermann is also mother to KJ, 5, twins Kaia and Kane, 3, and her daughters Brielle, 20, and Ariana, 15, from her previous marriage to Dan Toce.
"Due to the incident," the reality star added, "I will not be on WWHL tonight but will do my best to make it up very soon! Thank you for all your prayers and most importantly Thank you God for your protection. A very special Thank you to my incredible medical team! A few days in the hospital and we will be back home."
Really though, the entire Zolciak-Biermann family deserves privacy while Kash recovers. And hopefully, he'll be home sooner than he thinks.