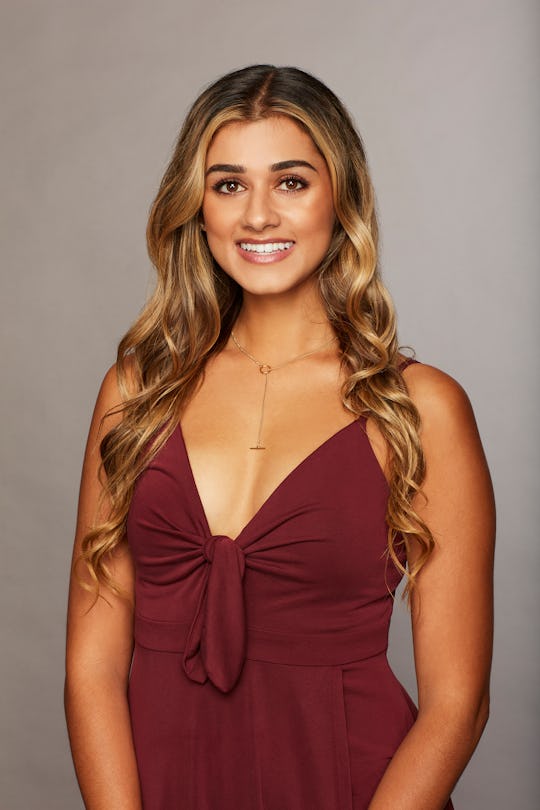 Craig Sjodin/ABC
Kirpa Was Sporting A Bandage On 'The Bachelor' & Everyone Is Concerned
At the outset of this week's episode of The Bachelor, viewers found the ladies and Colton in picturesque Thailand. But one contestant seemed worse for wear since their time in Singapore. While having a conversation with Elyse, Kirpa appeared to be sporting a bandage over her face, prompting viewers to wonder what happened to Kirpa's chin. Fortunately, it doesn't seem like the result of a fight.
Kirpa never revealed what happened between Singapore and Thailand on the show, and she was playing coy watching along on Twitter, too. She retweeted some funny jokes about the bandage and quote tweeted a few questions about it poking fun at herself, but Kirpa wouldn't come out and say what happened. "Not my best look," she replied to Entertainment Weekly's TV Critic Kristen Baldwin, who tweeted "Justice for Kirpa's chin" with a screenshot of her from the episode. But she added a crying laughter emoji to show it was all in good fun. Another viewer tweeted, "I hope Kirpa put a bandaid on her chin just to get people on Twitter to talk about her."
Kirpa replied, saying, "You got meeee."
Other than that, she only addressed a question about it with a cryptic shushing emoji and mouth zipped shut emoji.
The episode featured multiple shots of the women hanging out at their resort, and Kirpa didn't seem to have active beef with anyone. She hasn't had much screen time this season, and you know production wouldn't let a feud go unaired. But aside from that, there just wasn't any tension in the house that would suggest Kirpa got into any kind of dramatic scrap with someone. And given her reluctance to admit what really happened, I'm betting it wasn't an embarrassingly relatable accident, either. (That would be Bachelor Nation gold.)
I think this is a classic case of the simplest answer being the right one: Kirpa probably had a gnarly zit that she was feeling a little self-conscious about sharing with the world. Eagle-eyed viewers may have noticed that the bandaid was situated smack in the middle of one's hormonal breakout zone, so my bet is she just wasn't feeling camera-ready and slapped a bandage on that bad boy till she could cover it with makeup.
Of course, that's pure speculation and there are plenty of other fun theories floating around. But it looks like Kirpa is determined to take the secret of what happened to her chin to the grave. I wouldn't underestimate Chris Harrison's ability to coax a confession out of her at the Women Tell All special, though, especially if her chin incident (#chincident?) gets enough Twitter traction to leave viewers still wondering about it at the end of the season.
Kirpa did get invited to the first group date of Thailand — a Hunger Games-esque survival hike through the jungle — by the time the cocktail party rolled around it looked like she'd ditched the bandaid. So whatever was ailing her appeared to heal just fine. And honestly, whomst among us hasn't had a mysterious face situation we've wanted to keep under wraps?