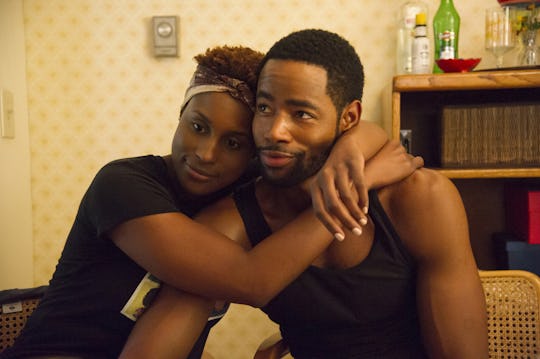 Anne Marie Fox/HBO
Issa Rae Reveals What Happened To Lawrence On 'Insecure'
#TeamLawrence might not be too happy with Insecure this season because their fave may not be in it at all. What happened to Lawrence on Insecure? He could be out of Issa's life for good.
In the trailer for Season 3, Lawrence is nowhere to be seen. Furthermore, in April Jay Ellis, who plays Lawrence, said he hadn't filmed any scenes for Season 3. What's going on? Well, Insecure creator Issa Rae said that the show is "taking a break" from Lawrence. "We want to stay as true to life as possible. They had a great conversation at the end of season two and it was just about like, hey, she's moving on Daniel, sometimes we have those conversations," she said at the Insecure Fest event in July. She continued, "You never see the exes again. And it's okay! You gotta explore life without Lawrence."
Fans were so up in arms at the lack of Lawrence in the trailer that they created a petition to get him in Insecure Season 3, complete with its own website called whereslawrence.com. The petition urges HBO to bring back their beloved character. Seeing a sponsored Facebook post for it Issa Rae responded to the petition with, "Wow. A sponsored post, though? Like… money was spent?"
But the reason for the lack of Lawrence makes complete sense, to me at least. Some people really don't see their exes at all after a break-up. Considering Issa and Lawrence technically broke up in Season 1 but continued to see each other for various reasons in Season 2 also makes sense. Now that there's been a lot of time since the breakup it feels more final, which is why viewers won't see Lawrence.
Judging from the trailer, though, there's someone else in Issa's life — but it's not someone new. It's Daniel, her ex-turned-fling-turned-roommate. Issa is now living with Daniel, which was hinted at in the Season 2 finale. In the extended trailer for Season 3, fans see just how close Daniel and Issa get this season. At first, it seems like Issa is trying to keep it platonic and just sleep on Daniel's couch as she gets back on her feet. It's increasingly clear, though, that there's still the physical attraction there. There's one shot where Daniel leans into a kiss, so I think they're going to go for it.
Not only that, but at the end of the trailer, Issa reveals to her friends that she's going to stay with Daniel longer as opposed to move out alone. To which they respond the way most friends would, by telling Issa that this is not a great idea (and agreeing they must be sleeping together)
It's not explicitly confirmed, but I'd bet that's where they're going this season. Issa Rae also talked about Issa and Daniel's connection at Insecure Fest. "I always have hope for Issa and Daniel. I feel like they're connected," Rae told Vulture. "I feel like he's seeing a side of her that Lawrence never saw. She has a history with Daniel that she never had with Lawrence. So that dynamic is interesting."
Y'lan Noel, who plays Daniel, also hopes their characters have some sort of romance. "I feel like we have never had a real opportunity to see whether they can make it work because of the external circumstances," Noel told Vulture. "There's never been a full moment for them to really see that. That's what's exciting about Season 3."
So sorry Lawrence Hive, he's taking a step back this season. As fans know from Sex and the City (and a million other shows), though, sometimes exes work their way back into the protagonist's life, so I won't count Lawrence out forever. But don't be surprised that he's not front-in-center on Insecure Season 3.