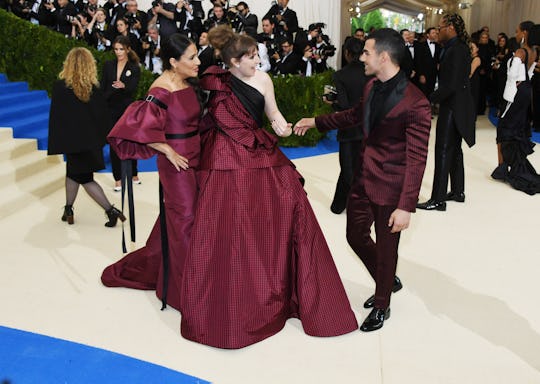 Dia Dipasupil/Getty Images Entertainment/Getty Images
Lena Dunham Is Reportedly Battling Endometriosis Again
On Monday night, Lena Dunham arrived to the 2017 Met Gala in a custom black-and-red one-shoulder gown designed by Elizabeth Kennedy. But the creator of HBO's Girls didn't stay long at the star-studded fashion ball. Shortly after arriving, the 30-year-old director and actor was rushed to a local hospital. So what happened to Lena Dunham at the Met Gala? She reportedly experienced severe endometriosis complications.
A source told Page Six that Dunham left the gala for the emergency room after suffering "a medical issue" and was released after undergoing a series of tests. PEOPLE also spoke to a source close to the incident who said the 30-year-old director and actor is now home and doing well, and is "taking some much needed time to rest." (It's not clear if it's the same source who spoke to Page Six).
In April, Dunham revealed that she was finally free of endometriosis after undergoing a fifth surgery to treat the condition, according to Entertainment Weekly. The Girls star opened up about how she's suffered from the condition for most of her life, and experienced chronic, excruciating pain on a daily basis. She said at the time that she never thought she would be "disease-free," EW reported.
Endometriosis is a painful and chronic disorder where tissue that normally lines your uterus grows outside of the uterus and other reproductive organs including the ovaries and Fallopian tubes. Symptoms of the disease include extreme pelvic pain, debilitating cramps, painful periods, excessive bleeding, infertility, and intense pain during and after sex. According to the Endometriosis Foundation of America, the condition affects about one in 10 women and girls.
Endometriosis can have a powerful impact on a person's personal and professional lives. The symptoms can keep people from getting out of bed, enjoying sex, having social lives, going to work, and maintaining relationships. In fact, Dunham announced in February of last year that she had to take a step back from the Girls press tour for its penultimate season because of the condition, according to Refinery29.
According to The New York Daily News, Dunham discussed her surgery last month in an issue of Lenny Letter, her subscription-based newsletter. She wrote,
My [FINAL] surgery went off without a hitch. When I emerged, cotton-mouthed, [Dr. Randy Harris] told me something I hadn't expected to hear, maybe ever: there was no endometriosis left ... Between my surgeries and hormonal intervention, I was disease-free. That doesn't mean it can never return, but for now, once my sutures have been removed and my bruises have changed from blue to yellow to green to gone, I will be healthy.
Romper reached out to Dunham's publicist for comment but hasn't heard back yet.