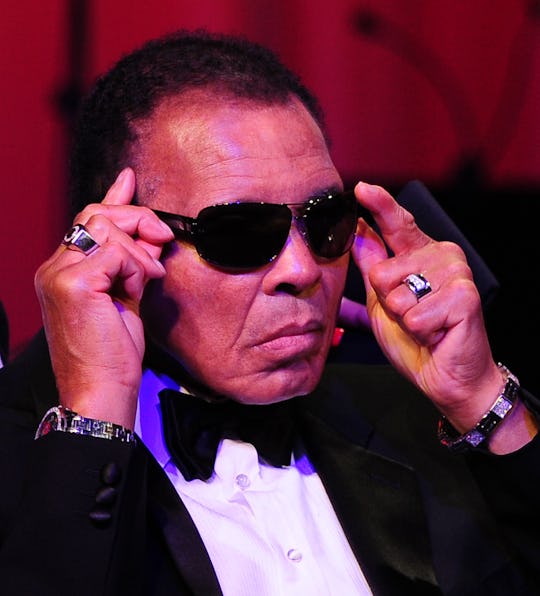 ROBYN BECK/AFP/Getty Images
What Happened To Muhammad Ali? His Hospitalization Has Fans Worried
Boxing legend Muhammad Ali had his fans worried after he was hospitalized on this week. The news first broke on Thursday afternoon, with a family source telling Louisville Fox affiliate WDRB that the former boxing legend was in "fair condition." So, what happened to Muhammad Ali?
There's been a decent amount of concern because the 74-year-old heavyweight boxer, nicknamed "The Greatest," was diagnosed with Parkinson's syndrome in 1984. Ali has been hospitalized in recent years in relation to the disease, although this time, he is reportedly being treated for a respiratory issue.
"Ali, who suffers from Parkinson's disease, is being treated by his team of doctors and is in fair condition," family spokesman Bob Gunnell told WDRB reporters in a statement. "A brief hospital stay is expected. At this time, the Muhammad Ali family respectfully requests privacy."
Ali is widely regarded as one of the greatest boxers and athletes in sports history and has been loved by fans not only for his skill in the ring but also for his values on religious freedom, politics, and racial justice. At just 22 years old, Ali rose to fame as the heavyweight boxing champion after he beat Sonny Liston in 1964 and held that title again in 1974 and 1978. He boxed in several historic matches, including one fight with rival Joe Frazier nicknamed the "Fight of the Century" and one with George Foreman where he regained the champion title by a knockout.
Ali retired from the ring in 1981 after an impressive 21-year professional career with an Olympic gold medal, three heavyweight titles, and 56 wins under his belt. During his retirement he devoted himself to social causes, including travels around the world on humanitarian missions.
In 1984, at the age of 42, Ali was diagnosed with Parkinson's, becoming one of the most high-profile people to battle the disease. Throughout his career he suffered from many repeated blows to the head and began showing symptoms of the disease — hand tremors, slurred speech, and sluggish body movements — soon after he retired.
Parkinson's is a brain disorder that progresses slowly and unpredictably. When a person has Parkinson's, their brain slowly stops producing a neurotransmitter called dopamine. As the person produces less and less dopamine, their ability to regulate their movements, body, and emotions becomes more difficult. At President Obama's inauguration ceremony Ali was unable to speak in public.
Last year, Ali was hospitalized with a urinary tract infection and in 2014 he was hospitalized for a mild case of pneumonia that was caught early enough that he was able to make a full recovery. As such, this latest hospitalization has caused many fans to worry that his physical condition may be worsening.
Ali was able to bounce back from health issues in recent years, so fans remain hopeful that his condition improves and he gets well soon.