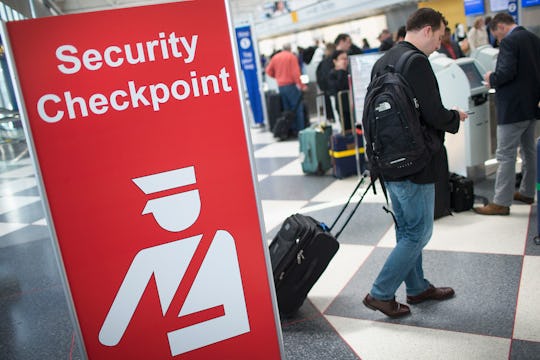 Scott Olson/Getty Images News/Getty Images
Muhammad Ali Jr. Speaks Out About Airport Incident
There's no question that it's not an easy time to be a Muslim in America right now, but the son of one of the country's most beloved athletes said he was detained by customs officials because of his religion. What happened to Muhammad Ali Jr. at the airport? In an interview with CBS This Morning Monday, Muhammad Ali Jr., son of the late boxing legend Muhammad Ali, said that he and his mother, Khalilah Camacho Ali, were traveling home to Florida from Jamaica on Feb. 7, when U.S. immigration agents at Fort Lauderdale-Hollywood International Airport allegedly asked him if he was Muslim. When he replied that he was, Muhammad said he was taken into a room and questioned for "about an hour and 45 minutes," despite the fact that he was born in Philadelphia and carries a U.S. passport. He also said he had never before been stopped or questioned when traveling.
In a statement Friday, U.S. Customs and Border Protection told the Louisville Courier-Journal that it could not comment on individual travelers due to Privacy Act restrictions, but said that "all international travelers arriving in the U.S. are subject to CBP inspection." In a separate statement to CBS News, Customs and Border Protection said, "CBP does not discriminate based on religion, race, ethnicity, or sexual orientation." Romper's request for comment was not immediately returned.
That wasn't particularly reassuring to Muhammad, though. When asked about his thoughts on the CBP statement, he told CBS This Morning that he didn't see how that could be true:
Then why would you ask me [about my religion]? I wouldn't ask you, "What religion are you? Christian?" Like there's a problem with it? I know Islam and Christianity is peace.
Attorney Chris Mancini — who is an Ali family friend — said that Khalilah was also questioned, according to TIME, but that she was released after she was able to show the immigration agents a photo of herself with her ex-husband, who was awarded a Presidential Medal of Freedom by President George W. Bush in 2005, according to ESPN. But Muhammad did not have a way to prove his connection to his father, and while he told CBS This Morning that he did tell them who he was, he didn't think they believed him.
Of course, it shouldn't really even matter whether his father was Muhammad Ali, and according to Mancini, they felt that the entire incident was reflective of President Donald Trump's attempt to restrict the entry of Syrian refugees and anyone from a number of Muslim-majority countries into the United States. Even though the temporary ban has since been rejected by a federal court, Mancini told the Courier-Journal that, "to the Ali family, it's crystal clear that this is directly linked to Trump's efforts to ban Muslims from the United States," and argued that the Alis were subject to profiling due to "their Arabic-sounding names."
Mancini also told the Miami New-Times that the incident involving the Alis showed that, even though Trump's executive order was blocked by a judge, the effects of it still continue. He said,
What right does the United States have to inquire about somebody's religion when they enter the country? There was no other basis for a secondary inspection. This is an instance where the ban has been enforced even though it has been thrown out. The government is still trying to find grounds to keep Muslims out.
Regardless of your take on Trump's immigration order, Muhammad's experience is extremely concerning. After all, if he is an American-born citizen with no history of being questioned or detained (he also does not have a criminal record, according to CBS News), what other reason could there have been for him to be flagged other than his name? Ultimately, being the family of a famous heavyweight obviously helped — at least it seems to have helped Khalilah — and the Alis have the fame and platform to be able to speak out about in on TV. But for the average Muslim traveler, the news of the Alis' questioning is likely to add to the unfair and unnecessary fear that already exists when it comes to traveling in Trump's America.