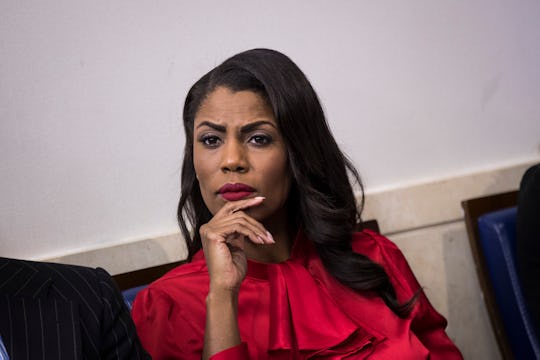 Drew Angerer/Getty Images News/Getty Images
Everything You Need To Know About Omarosa's Time On 'The Apprentice'
There are a lot of great stars moving into the Big Brother house for the first U.S. edition of Celebrity Big Brother, but the one everyone can't stop talking about is Omarosa Manigault. Omarosa was a White House aide for President Trump but left the position back in December, though the reason behind her departure is still somewhat of a mystery. Regardless, Omarosa has had a long relationship with Trump, beginning with her time on The Apprentice, but what happened to Omarosa on The Apprentice? She wasn't that successful.
Omarosa first rose to fame, or infamy, when she appeared on the first season of The Apprentice in 2004. She became known as one of the original reality TV villains because she fought with almost every cast member that season. One of her most notable fights was with fellow contestant Ereka Vetrini after she accused Ereka of being racist for using the phrase "the pot calling the kettle black."
Although she made it pretty far in the competition, she was fired by Trump in the ninth week because she'd made too many excuses for her poor performance in an art gallery-themed task, in which contestants had to sell controversial pieces by an array of abstract artists. Although Trump claimed he thought Omarosa was too much of a loose cannon to be given any more chances, that didn't stop him from inviting her back for the first season of The Celebrity Apprentice in 2008.
It was during this season where Omarosa's feud with Piers Morgan, a fellow contestant, began. Morgan called Omarosa the biggest liability among the women and consistently refused to pronounce her name correctly. Unfortunately for Omarosa, Morgan went on to win that season while she was fired in Week 10, once again for failing an art gallery challenge. Omarosa was the first contestant to ever be fired twice on the series.
Still that didn't stop Omarosa from returning to the series one last time for All-Star Celebrity Apprentice in 2013. However, this time around her enemy, Morgan, wasn't a fellow contestant but a guest judge. The two got into a little spat when Morgan told Omarosa, "You're not a celebrity," to which she asked, "And you are?" It was during this episode that Omarosa was once again fired and again it had to do with art. Omarosa, along with her fellow contestants, were tasked to create original, three-dimensional pieces of art and sell them to raise money for charity. Omarosa raised the least amount of money.
That time around when Trump fired her, he did let her know that he appreciated all her appearances on the series. "I adore you," he said in the boardroom. "We've had tremendous success together. You helped make The Apprentice. You helped make me a star." Obviously Trump meant it since he later made her a White House aide.
So even though Omarosa never came out on top during a season of The Apprentice, one could argue that she won something even better. Love her or hate her, it was because of her time on the show that most people now know who she is. Although Trump claimed she helped him become a star, he also did the same for her. That's why it'll be interesting to see what, if anything, she devolves about her time working for Trump. Fans won't have to wait much longer to find out one way or the other.
Celebrity Big Brother premieres tonight at 8 p.m. ET on CBS.
Check out Romper's new video series, Romper's Doula Diaries:
Watch full episodes of Romper's Doula Diaries on Facebook Watch.