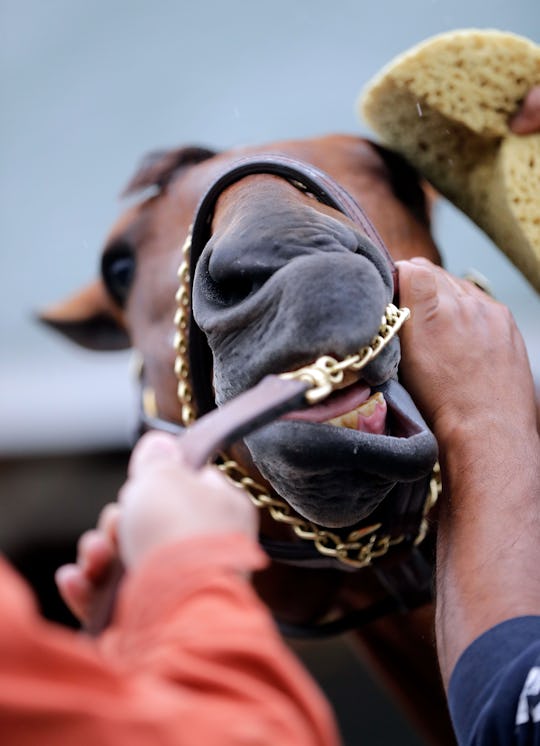 Jamie Squire/Getty Images Sport/Getty Images
Patch Will Be Your Favorite At The Kentucky Derby
May 6 marks the 143rd Kentucky Derby, and while the race remains the true-to-tradition for fans at the track and those watching at home, one of the participants is making a name for himself by bringing an uncommon characteristic to the track. Patch, the Kentucky Derby horse with one eye, joins the ranks as being one of the few horses to run the race missing an eye, according to The Washington Post — and he'll instantly become one of your favorite contenders. But what happened to Patch's eye?
According to The Washington Post, it is not the first time a one-eyed horse has run the race, although it is not incredibly common. They report that there were horses with one eye running in the 1982, 2004, and 2007 races. While that doesn't make Patch a pioneer on the track, he certainly will become a fan-favorite while watching the Kentucky Derby this year. (Patch may become a fan-favorite, but USA Today says he is not the actual favorite to win, marking him at 30-1 odds.)
Patch, a young 3 years old, has a ping-pong ball-sized socket in the place of his left eye, The Washington Post, reports. The outlet also says that he lost his eye after an ulcer never fully healed. Once the eye worsened, it eventually needed to be removed, but that clearly has not stopped the thoroughbred from racing in one of the biggest events of the year for a horse.
Patch, while not a favorite to win, will certainly win over some hearts. And if you find yourself swooning over the one-eyed horse, you'll be happy to know that he has his own Twitter account. It seems that the account absolutely acknowledges that Patch is working against the odds during the Kentucky Derby, evident in this tweet from May 4, just days before his race.
The Kentucky Derby is considered the "most exciting two minutes in sports," so don't miss the race, which is set for 6:34 p.m. ET on May 6. Patch, along with 19 other horses, will be running for the guaranteed $2 million guaranteed purse prize and the title, of course.