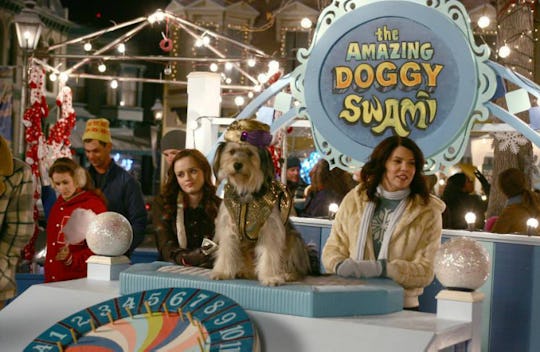 Warner Bros.
What Happened To Paul Anka On 'Gilmore Girls'? Lorelai's Dog Is Still Part Of The Family
The Gilmore Girls revival is almost here and fans are excited to be reunited with their favorite characters. Besides all the humans that will be returning, a certain special dog will be coming back to Stars Hollow as well. That's right, Lorelai's dog, Paul Anka, will be returning for the four-part revival series on Netflix. Sparky, the dog who played Paul Anka, will be reprising his role and though he may be older there's no doubt he'll be the same lovable dog fans have come to know. It's been a while since fans have thought about Paul Anka, so just in case you've forgotten, here's what happened to Paul Anka on Gilmore Girls.
After Lorelai and Rory had that awful fight and they stopped speaking in Season 6, Lorelai decided to adopt a dog from the annual Petfinder convention Stars Hollow has every year. Although it was said before that Lorelai shouldn't be allowed to have pets, without Rory by her side to stop her, she ended up taking Paul Anka home. In typical Lorelai fashion, she named him after the singer Paul Anka, who wrote the popular 1960s song "Puppy Love," and proceeded to treat the dog like a second child in the most adorable ways. Also, in typical Gilmore Girls fashion, Paul Anka wasn't a regular dog.
Paul Anka had various quirks, which included not being able to walk down the front steps without having something laid down on them first. (Weird, I know.) He also had a fear of peas, tissue-holders, CDs, and framed pictures, amongst other things, and he didn't like any of the regular dog toys. He couldn't eat while someone was watching him and liked to eat hamburgers rare. He also couldn't see you putting the leash on him, but once it was on he was fine. Lastly, somehow Paul Anka was smart enough to figure out how to get in and out of doors and even got himself into Rory's car somehow.
Since Gilmore Girls ended it wouldn't be surprising if Paul Anka now has some new quirks the series will introduce, but it's anyone's guess what those could be. Whatever they are, they're sure to be weird and hilarious and lovable, but that's why fans and the Gilmore girls love him.
Gilmore Girls: A Year in the Life will be available for streaming on Netflix beginning on Nov. 25.