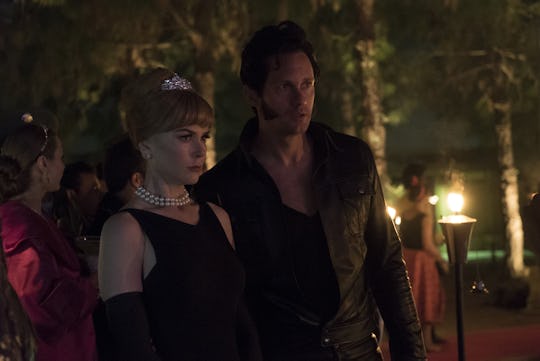 Hilary Bronwyn Gayle/HBO
Perry's Part In The 'Big Little Lies' Finale Is Key
Even though it feels like it just started, Big Little Lies has officially come to an end. And that end has come with answers to who died on trivia night and what exactly went down on an evening that would leave Monterey, California buzzing. (Also, where is the trivia on trivia night?). If you didn't read the book Big Little Lies, many of the characters are still potentially dead going into the finale. But watching the finale — spoilers from the finale ahead — you might be asking what happened to Perry in the Big Little Lies finale. You're not alone.
(Seriously, stop reading now if you didn't see the finale yet and care about spoilers.) The finale was a wild ride for all of the characters, but Celeste's story about getting out of an incredibly abusive marriage really drove the finale's plot line, since it was revealed that Perry was the one who died during trivia night at a rather gruesome hand. But let's not get ahead of ourselves.
In the finale, Perry's violent streak reached a point where he actually knocked Celeste out — pushing her to finalize her apartment and get out of such a dangerous situation. The final straw seemed to be when she learned that Max, one of her sons, was the bully at school — not Ziggy — finally putting the piece together that while Perry wouldn't every lay a hand on the kids (she said), his actions are influencing them immensely.
Perry learned of Celeste's plans to leave, and in a rather calm (but totally terrifying) way, told her he knew. On the way to trivia night, he lost it completely, begging Celeste to forgive him and pleading with her to stay — promising he'd fix himself. Celeste was done with it, and she was able to escape from a rather nerve-wracking situation as the two sat in his car at the edge of the road.
Fast forward to later on in the night when Perry confronts Celeste (who has surrounded herself with the other women in the show). She refuses to speak with him at the same time Jane realizes that he is the man who raped her years ago. Something switched and Perry attacked Celeste, as the other women tried to fend him off (as he continued to hurt them). Bonnie, who was watching the altercation, ran to the scene and in one fell swoop, shoved Perry off the construction ledge. Perry fell down the stairs and was impaled in the neck by something that left him dead.
The women stood by the story that he slipped while attacking Celeste, leaving them free of any legal ramifications. Perry's death would not be solved, because in the eyes of the police (with the exception of the detective) no crime had been committed.