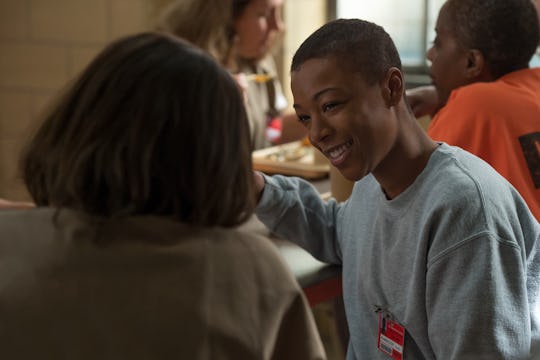 JoJo Whilden/Netflix
What Happened To Poussey On 'Orange Is The New Black' Season 4? It's An Important Moment
(Warning: This post contains spoilers from Episode 12 of Orange Is the New Black Season 4.) Things were going really well for a certain inmate at Litchfield this season. Unfortunately, by the end of Season 4, things had essentially come full circle from Season 3 when Poussey rescued Soso from a suicide attempt. After a season of their relationship progressing and their future being planned, things took a turn for the worse during Episode 12 of Orange Is the New Black. So, what happened to Poussey on Orange Is the New Black — something that fans will surely be talking about?
Well, despite the progress that Poussey made over the season, the twelfth episode, unfortunately, ended in her death. As the inmates began a peaceful protest against Piscatella and the guards, the COs on duty became overly forceful and started becoming physical with the inmates, like Poussey, Suzanne, and Taystee. Unfortunately, Bayley, the young guard who actually wasn't a monster, tackled Poussey and was fighting off Suzanne at the same time, which ultimately resulted in Poussey's death. While focusing on Suzanne, Bayley held down Poussey until she couldn't breath — strangling her with one hand on her neck.
For a moment, I thought, Oh, this isn't real. She's going to get up. But, that's not what happened. Instead, the second Taystee realized that her friend was motionless on the ground, her hysterical crying was my hysterical crying.
While Poussey has been an important character throughout the entire series, Season 4 felt different. This was the season that she was really looking forward to getting out and starting a life with someone she loved (Soso). In fact, this same episode, Poussey asked Judy King if she would help her get a job when the time comes for her to leave Litchfield. Despite Judy King's lack of compassion for a lot of situations, she genuinely seemed like she wanted to help her friend with her future plans.
The inmates did not take the loss well, especially Poussey's family and loved ones. Everyone grieved differently, but there was a moment that it seemed like maybe the inmate war that's been surfacing throughout the season was going to subside for the time being.
Poussey's death stands for a lot. It stood for the loss of good, it stood for the loss of love. It stood as a political statement in Black Lives Matter, which was a topic of conversation for those that mourned Poussey the most. It stood for brutality, and unnecessary violence. Poussey will be missed, and her death will not fade into the darkness. Instead, I have a feeling it will ignite an entire prison full of fires.