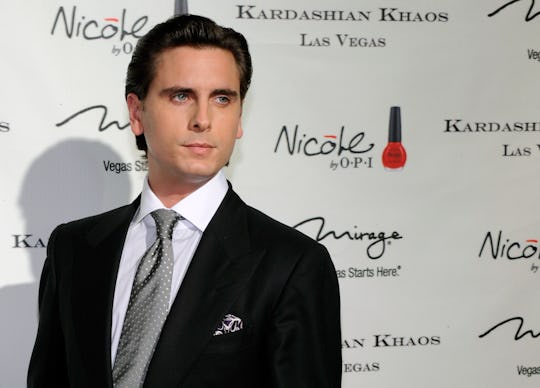 Ethan Miller/Getty Images Entertainment/Getty Images
Scott Disick Was Reportedly Rushed To The Hospital — REPORT
TV personality Scott Disick was "involuntarily hospitalized" on Aug 18 as part of a psychiatric hold for reportedly being a danger to himself or others, according to TMZ. What exactly happened to Scott Disick, though? Details are scarce, but it sounds like he's dealing with some mental health concerns, ones that he and his family will need privacy to deal with.
Romper reached out to Disick's representation for comment on the hospitalization, but had not received a response as of publication.
Back in August, the Los Angeles County Fire Department responded to Scott's home in Hidden Hills, California, Celebuzz! reported. Sheriffs were reportedly called because Disick was being uncooperative, but by the time the police arrived on scene, he had calmed down and later complied with officials, according to The Blast.
Following the incident, Disick — also known as the ex of Keeping Up With the Kardashians' Kourtney Kardashian — was allegedly placed on an involuntary 5150 psychiatric hold, according to Cosmopolitan. A 5150 involuntary psychiatric hold is for individuals that officials believe may be "a danger to others, or to himself or herself," and can lead to the person being taken into custody "for a period of up to 72 hours for assessment, evaluation, and crisis intervention," according to a page on the California Legislative Information website.
However, Disick didn't spend that whole time in the hospital, because he was seen walking around Los Angeles in the days after the incident, according to Cosmopolitan. So what exactly happened to him after the police arrived at his home is not totally clear.
It also wasn't clear what led to the call for help at Disick's home in the first place, according to News Channel 9 WTVC. However, The Blast reported that the 911 caller told dispatchers that Disick "got drunk" and that as a result, "Someone needs to take him to the hospital."
Since the event, the Keeping Up With the Kardashians reality television star has been spotted with his children, Penelope and Mason, and otherwise seen out and about, according to Page Six. So whatever happened, it appears that Disick has bounced back enough to be out of the hospital and spending time with his family.
In addition, Disick was recently seen with Kim Kardashian at Milo's restaurant in Manhattan, and he reportedly went shopping at the Bergdorf Goodman Store on 5th Ave with Kris Jenner the following day, according to PEOPLE. The reality star is "trying to get better," according to PEOPLE, and that's a very good thing, no matter the circumstances behind why he might have been hospitalized.
The truth is, we may not ever know exactly why Disick was reportedly hospitalized for a psychiatric hold back in August. Maybe he or the Kardashians will talk about it on Keeping Up With the Kardashians, or maybe they won't.
Mental health is extremely important to take care of, and at this time, Disick and his family likely appreciate some level of privacy in regards to the situation while he tries to take care of himself.