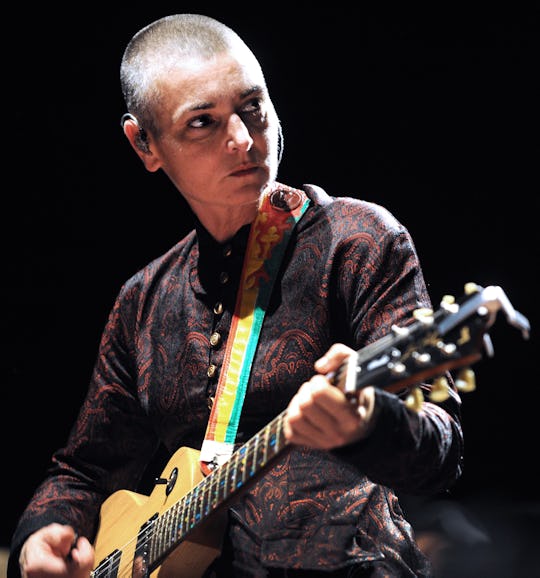 FRED TANNEAU/AFP/Getty Images
What Happened To Sinead O'Connor? She Was Just Found Safe After Going Missing
Singer-songwriter Sinead O'Connor has been found safe after going missing in suburban Chicago. Initial reports claimed that O'Connor had failed to return from a bike ride on Sunday. Police issued a press release about the situation and had reason to believe she might have been at risk, which left many concerned, wondering what had happened to Sinead O'Connor and whether she was still at-risk.
The singer has reportedly dealt with some troubles in recent years and a caller was reportedly concerned for the Irish singer's well-being after she first went missing. "The Wilmette Police is seeking to check the well-being of Sinead O'Connor," a press release from Wilmette Police Sgt. Michael Robinson read. "O'Connor reportedly left the Wilmette area for a bicycle ride on Sunday at 6:00 AM and has not returned. A caller has expressed concern for her well-being and no other information is available at this time."
A few hours after the 49-year-old musician reportedly left for her bike ride on Sunday morning, she wrote a rambling post on her official Facebook page addressed to a man named "Jake" who she said should "expect to be in trouble." It's unclear who exactly the post was directed towards and what it was supposed to mean, but this is not the first time people concerned about O'Connor have reached out following questionable messages on social media.
O'Connor most recently made headlines last week after alleging on social media that late night host and comedian Arsenio Hall had drugged her and supplied drugs to Prince, who died unexpectedly last month. Hall has since filed a lawsuit against O'Connor for $5 million claiming defamation.
"Two words for the DEA investigating where [P]rince got his drugs over the decades ... Arsenio Hall. Anyone imagining [P]rince was not a long time hard drug user is living in cloud cuckoo land," O'Connor wrote in a post that has since been deleted, according to CNN.
In November of last year, O'Connor posted a distressing status also on her official Facebook page hinting that she might have harmed herself in a hotel room in Ireland. The post has since been deleted, but according to Billboard the post allegedly included the sentence, "I have taken an overdose" and read like a possible suicide note. She was later found to be safe and was taken for medical treatment. According to the BBC, in 2012 the singer also previously stated that she had suffered a "very serious breakdown" when she cancelled a world tour.
Over the course of her career, O'Connor has recorded 10 solo albums and has become a beloved international star. In 1990, she released the worldwide hit "Nothing Compares 2 U," which was written by Prince.
While O'Connor has made headlines throughout her career with alarming posts on social media, she has also been publicly struggling with mental health issues and a messy child custody battle. The singer's Facebook posts may serve as a platform for an important issue and perhaps as a way for O'Connor herself to find help while dealing with her own reported struggles.