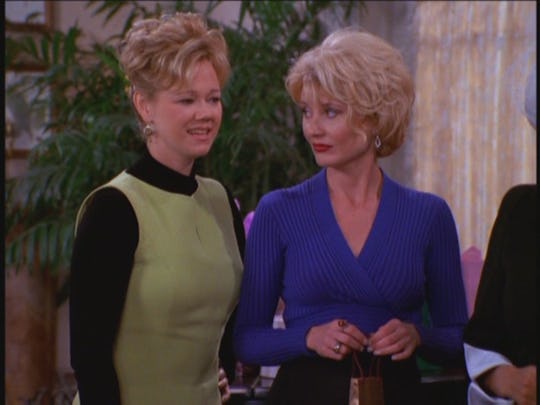 What Happened to the Aunts From Sabrina The Teenage Witch? Don't Worry — They're Doing Just Fine
With shows like Full House coming to TV, it's easy to forget about other beloved members of the TGIF lineup. Most notably, Sabrina The Teenage Witch. Much of the show's fun centered on Sabrina's escapades with her two eccentric aunts Hilda and Zelda, played by Caroline Rhea and Beth Broderick respectively. Their banter added to the show's inherent silliness and, along with Salem the cat, helped make it a 90s classic. Thus begging the question, what happened to the aunts from Sabrina the Teenage Witch?
We know that the series's star Melissa Joan Hart has continued to star in sitcoms, Libby's portrayer Jenna Leigh Green took her talents to the stage, and Harvey a.k.a Nate Richert released a bluegrass album (no, really!). And I'm sure Salem the Cat is doing great things, seing as he played a role in combatting deeply unfair stereotypes about black cats. But what happened to the women who raised Sabrina and turned her into the wickedly awesome witch?
The answer is: quite a lot! Since the show wrapped in 2003, both Rhea and Broderick have appeared in numerous TV shows and movies, from lighthearted Christmas comedies to gritty indie fare. And nerd alert — one of them has guest-starred alongside her TV niece. Can you guess which one?
Caroline Rhea
Rhea has been very busy in the last few years. She served as host of The Biggest Loser for its first three seasons and also had her own short-lived talk show, The Caroline Rhea Show. She has also made appearances on The Suite Life of Zack and Cody, Baby Daddy, and 2 Broke Girls. As far as animated television, she was the voice of Linda Flynn-Fletcher on Disney's Phineas and Ferb for more than 200 episodes.
When she's not stepping in front of the camera or mic, Rhea hones her comedy skills doing standup around the country. (For an in-person dose of 90's nostalgia, see if she's performing hear you.) She runs an entertaining Twitter account, where she offers humorous commentary on pop culture and shares sweet messages from her many fans.
Beth Broderick
Broderick has also worked on many great projects since her days on Sabrina The Teenage Witch. She starred in Under the Dome as diner owner Rose Twitchell and also played Diane Jansen on Lost. She has also appeared on numerous dramas, including CSI:Miami, CSI: Crime Scene Investigation, The Closer, ER, Cold Case, Castle, and Leverage. She even made a guest appearance on a 2014 episode of Melissa & Joey titled "Witch Came First." (And yes, it was just as adorable and sweet as you might imagine.)
Though not as active as Rhea, Broderick does have a Twitter account that she uses to promote her latest project. More recently, Broderick participated in a Reddit AMA to talking about her new film "Echoes of War But don't think fans didn't slip in a Sabrina questions or two, especially when it comes to the most beloved black cat. Here is just a sampling of snippets from the online Q&A:
On Working With Salem
"It was not weird acting with him Salem was played by a few live cats and three different animatronic cats. I often petted the puppets forgetting that they were not real."
On Filming Sabrina
"Sabrina was a tough show to shoot. We often worked 15 hours a day just trying to get all of the special effects done correctly. We laughed a lot though and there were lots of bowling nights act. It was a tightly knit cast and crew."
On The Controversy Surrounding Sabrina
"There were a few nuts who sent us bibles and told us we were going to hell, but Sabrina was embraced by cultures all over the world including very religious nations in the Middle East and India."
On Her On-Screen Niece
"Melissa Joan Hart was never a diva. She is a hard working super smart woman and I adore her. She has a great family and knows what is important in life. She is a treasure."
On Whether She Still Sees The Sabrina Gang
"Yes! Especially Melissa and Caroline. They are family to me. I loved Nate, Elisa, Nick and Jenna and the others as well."
It seems as though Broderick and Rhea have done quite well for themselves in the year following Sabrina. And they didn't even need magic to do it.
Images: Viacom Productions