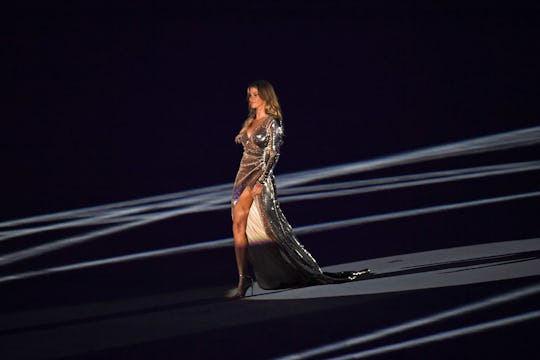 OLIVIER MORIN/AFP/Getty Images
What Happened To The Gisele Bundchen Assault Skit At The Rio Opening Ceremony? It Got Cut
If you have kept up with nine hour long opening ceremony for the 2016 Summer Olympics, then you might have realized that something was missing from the event. Or, perhaps you didn't realize something was missing because you didn't know it was going to happen. Whatever the situation is, a controversial skit featuring supermodel Gisele Bundchen was pulled from the opening ceremony, and people are definitely talking about it. So, what happened to the Gisele Bundchen assault skit at the Rio opening ceremony? Well, after information about the video was released, it seems that the video was simply dropped from the ceremony.
According to the Washington Post, the skit got pulled after some considered it a cringe-worthy moment waiting to happen. The skit itself, according to the Washington Post, involved a "moment when supermodel Gisele Bundchen got seemingly robbed by a black kid from the slums." Yeah, it's probably best that wasn't a thing that happened.
"It's totally unacceptable," said Fernando Alvares Salis, head of the communications department at the Federal University of Rio de Janeiro, who was invited to see the rehearsal. "It's got to be dropped."
Instead, Bundchen's big moment was walking across the opening ceremony stage to "The Girl from Ipanema," for her final walk on a catwalk, ever. After the skit was "revised" (read: cut), it seems that they were able to make the most of Bundchen's presence without stereotypically calling out a race for an unnecessary moment.
There seem to be some mixed perceptions on what exactly the skit brought to the table. The creative director, Fernando Meirelles, told the Post that it was a "tremendous misunderstanding" since the skit had nothing to do with "robbery or assault and just featured 'three professional clowns.'"
"It was a gag that was not funny so we cut it," Meirelles told the Post. Probably for the best.