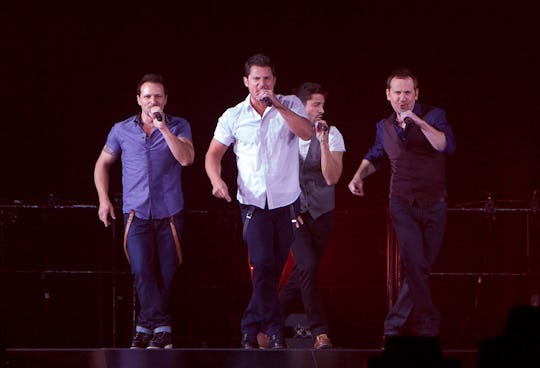 Jeff Schear/Getty Images Entertainment/Getty Images
What Happened To The Members Of 98 Degrees? They're Still Burning Up
When you think about the great boy bands of the late '90s and early '00s, *NSYNC and Backstreet Boys immediately spring to mind. But real aficionados of boy band groups knew that the boys of 98 Degrees were as hot as could be. So what happened to the members of 98 Degrees, anyway? It looks like Justin Jeffre, Drew Lachey, Nick Lachey, and Jeff Timmons are still burning it up.
These four boys from Ohio had quite the run on the pop charts. Chances are you recall their hits, "I Do (Cherish You)," "Because of You," or "The Hardest Thing." I mean, have you been to a wedding in the past decade that didn't include "I Do"? It's a compulsory play at many receptions. And no one can blame you if you still have their hits tucked away on a playlist somewhere. Their R&B boy band songs are both totally '90s and totally timeless.
So what are the adorable Lachey brothers up to lately? Can you guess who took on a political career, and who found great success with a solo album? They have all gone on to interesting and successful careers. Fortunately, these boys have not left their roots life behind: you just might catch 98 Degrees in a city near you on the My 2K tour, along with O-Town, Dream, and Ryan Cabrera.