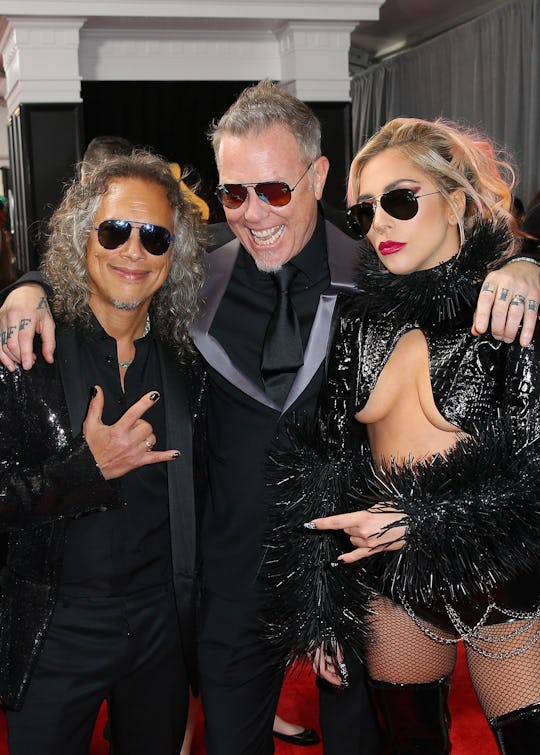 Joe Scarnici/Getty Images Entertainment/Getty Images
Metallica's Mic Went Out During The Grammys
On Sunday night, Lady Gaga took the stage with Metallica. The performance was dark, brooding, and awesome, but for the first 20 to 30 seconds of the performance, Metallica lead singer James Hetfield's mic was out. What happened to the mic during Metallica's performance with Lady Gaga? It seems the night was plagued with a few technical difficulties.
Though Gaga began immediately performing the song "Moth Into Flame" with Hetfield and her powerful vocals were loud and clear, viewers watching the show on TV and those in the audience at the Grammys couldn't hear Hetfield's vocals. His mic appeared to be out completely. At one point he shared a mic with Lady Gaga, which was super cool and old school, if you ask me. But it was definitely annoying to not be able to hear what the heck he was singing for the first 20 seconds of the song. Like, come on, stage and technical crew? What the heck happened?
Twitter of course immediately started going after whoever was in charge of the microphones for Metallica and Lady Gaga's performance. Did the person forget to plug something in? Did some kind of wire get cut? Is Lady Gaga now the new lead singer for Metallica?
Here are a few of Twitter's hilarious responses:
But fans of Metallica were not laughing at all.
But the one cool thing about Hetfield's mic going out was that then he and Gaga shared her mic, which made for a pretty cool and metal approach to the rest of the show, if you ask me. They two of them both yelling/singing into the same mic was kind of bad*ss.
Prior to the Grammy awards on Sunday, Gaga shared an Instagram photo of a new Metallica-inspired tattoo she got, according to Huffington Post:
She captioned the photo: "The Moth & Metallica 🦋------->🔥🖤#ink #tattoo #MothIntoFlame #MetalliGa#metal #grammys @metallica."
The performance at the Grammys was Gaga's first since, well, the previous weekend, when she performed at the Super Bowl Halftime Show. She did a mashup of a number of her famous hits, jumping off of the stage at the end of the performance. Many said that the performance wasn't as political as what they'd usually expect from Gaga, but those people clearly weren't paying attention to the subtle messages.
Her Grammys performance with Metallica was decidedly less political and was more just about honoring the band's music and style. She committed to Metallica's style, and it was an awesome show... minus the mic issues.