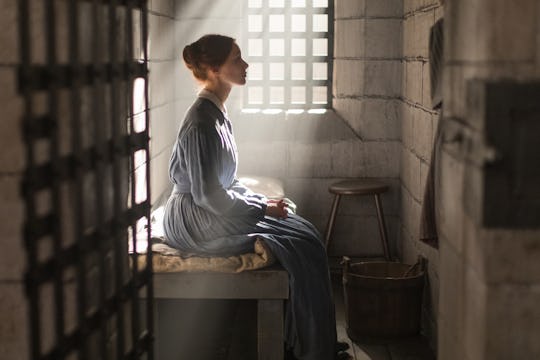 Sabrina Lantos/Netflix
'Alias Grace' Explores Grace Mark's Complicated Life
Margaret Atwood has a second high-profile adaptation of one of her novels coming to a streaming service this year with the Netflix premiere of Alias Grace. It follows the hugely successful Hulu run of the Emmy Award-showered adaptation of The Handmaid's Tale, breathing new life into Atwood's decades-old novels. Her second book to be adapted is Alias Grace, which was first published in 1996. It's a dramatized account of the life of a real Irish-Canadian maid who was convicted of murdering her employer in 1843. So what happened to the real Grace Marks? Her story is fascinating.
One of eight siblings (and three more still-born ones), Marks first immigrated to Canada with her family when she was just 12 years old. Her mother died aboard the ship during their voyage to North America and was buried at sea. Her father worked as a stonemason and was an abusive alcoholic, making her story even more tragic. She was convicted of murder just three years later, at the age of 16. What happened in between makes up the bulk of Alias Grace, as Grace tells her autobiography to a character of Atwood's invention named Dr. Simon Jordan. He's an early psychologist of sorts with aspirations of opening up his own asylum, and he's brought in by people who believe Grace is innocent to help her recall the events from the day of the murder, which she claims not to remember because she had fainted.
Marks' employer was a wealthy Ontario farmer named Thomas Kinnear, and on July 23, 1843, he and his housekeeper Nancy Montgomery were found murdered. The only other people living in the house were Marks, who worked as the maid, and James McDermott, the stable hand. McDermott was convicted for the murders as well, and he was hanged for his crimes. Marks was convicted, but because of her young age and gender, she was sentenced to life in prison. She initially went to an asylum but was later moved to a penitentiary, where she served almost 30 years before being pardoned. Following her release, she moved to upstate New York and no further records of her were ever kept.
And although the mere fact of Marks claiming amnesia doesn't seem like a compelling defense, there are much deeper secrets buried in the house which Atwood aimed to uncover.
She wrote in the book's afterword:
The details were sensational: Grace Marks was uncommonly pretty and also extremely young; Kinnear's housekeeper, Nancy Montgomery, had previously given birth to an illegitimate child and was Thomas Kinnear's mistress; at her autopsy she was found to be pregnant. Grace and her fellow servant James McDermott had run away to the United States together and were assumed by the press to be lovers. The combination of sex, violence and the deplorable insubordination of the lower classes was most attractive to the journalists of the day.
And before working in the Kinnear home, Marks had a job working for a wealthy Toronto couple, which she had to quit because she found out their son had impregnated her best friend and then induced an abortion that killed her.
As with The Handmaid's Tale, Alias Grace explores how men and women relate, the social consequences of womanhood, and perceptions of consciousness and reality. Grace Marks' story has horrific details which complicate her conviction, and the miniseries, although it's a period drama, is a super contemporary blend of true crime dramatizations and misogynist dystopia. You can catch the series, which was dropped on Netflix on Friday, Nov. 3.
Watch Romper's new video series, Romper's Doula Diaries:
Check out the entire Romper's Doula Diaries series and other videos on Facebook and the Bustle app across Apple TV, Roku, and Amazon Fire TV.