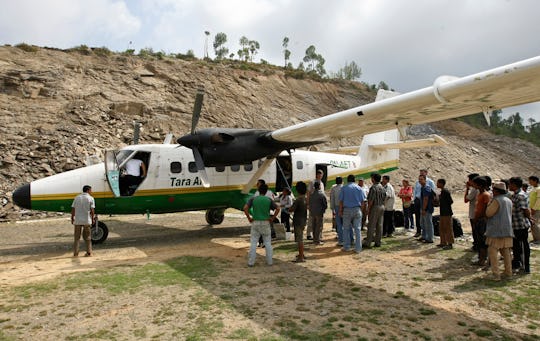 PRAKASH MATHEMA/AFP/Getty Images
What Happened To The Tara Air Flight? All 23 Passengers Are Feared Dead In Nepal Crash
It's a sad day for Nepal: 23 passengers aboard a short-haul flight are thought to have died following a crash in a mountainous region known for climbing expeditions. But what happened to the Tara Air flight? The small Twin Otter plane took off Wednesday morning from the city of Pokhara, and was scheduled to land in Jonsom 19 minutes later, according to USA Today. But despite clear conditions, a new plane, and a seasoned pilot who was only six months away from retirement, the plane lost contact eight minutes after takeoff. Officials were at first unsure what had happened to the flight, as it appeared to have vanished in the airspace, but after reports of flames seen in the forest of Nepal's Myagdi District, the plane was discovered crashed and on fire, according to CNN.
The plane was carrying 20 passengers, including two infants, and three crew members. According to the Kathamandu Post, Army Spokesperson Brigadier General Tara Bahadur Karki said the wing and tail section of the plane have been located, but they are still searching for the fuselage to attempt to recover bodies. The weather in the area is extremely cold and the terrain treacherous, according to local Police Constable Phool Kumar Thapa Magar, and the plane was also said to still be burning hours after the crash.
According to the BBC, many areas of Nepal are difficult to access by car and can be reached only by foot or by air. But Nepal has a poor flight safety record, with "more than 70 different crashes involving planes or helicopters," since 1949 — the first year that aircraft landed in Nepal. Most of these crashes can be attributed to inclement weather, or poorly-maintained aircraft, the BBC said. But Wednesday's Tara Air flight seems to be an anomaly because the weather was reported to be good and the aircraft was new. According to the Kathmandu Post, the plane — the Viking DHC6-400 Twin Otter — was introduced into the Tara Air fleet last September:
[boasting] cutting edge avionics technology with an integrated full glass cockpit that features an enhanced ground proximity warning system, traffic collision avoidance system and full color weather radar.
According to the BBC, however, the Nepalese army has said that dense fog in the area interfered with their search for the aircraft. Officials are still unsure of the cause of the crash.