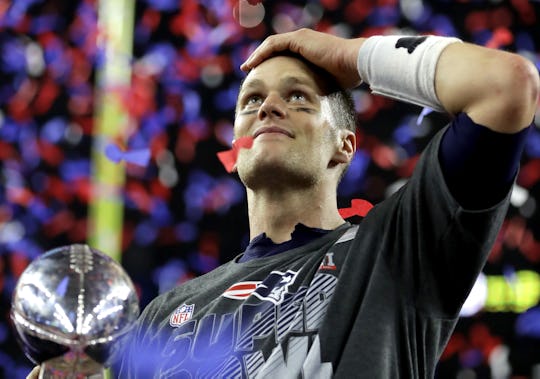 Ronald Martinez/Getty Images Sport/Getty Images
Tom Brady's Super Bowl Jersey Is MIA
After defeating the Atlanta Falcons in one of the more incredible comebacks in NFL history, the New England Patriots should, by all accounts, be out celebrating their fifth Super Bowl victory. Unfortunately, it looks like there's been a hiccup in the celebrations: On Sunday, Tom Brady's jersey went missing during the game's exciting aftermath, and now, even state officials in Texas are reportedly concerned about the valuable clothing's whereabouts. According to the NFL, the quarterback's game-winning jersey appears to have been stolen within a pretty short period of time.
NFL.com writer Dan Hanzus shared a video of the moment that the 39-year-old football pro calmly told his team's owner, Robert Kraft, that someone had stolen his jersey. "Someone stole my game jersey," Brady said to Kraft, who was handing out victory cigars in the locker room at the Houston stadium.
"Are you serious?" Kraft replied. "Well, you better look online!" In the video, Brady doesn't look angry or flustered by the situation and, instead, laughed off the predicament and continued to have a conversation with the 75-year-old businessman.
This exchange presumably happened some time after Brady had left the Super Bowl 51 field, and taken to the locker rooms, but prior to him being named the Super Bowl MVP for the record fourth time in his career on Sunday night. According to USA Today, Brady "frantically looked through several bags and told nearby players that the iconic No. 12 was missing."
"It was right here. I know exactly where I put it," Brady said as he called for security staff to help him look for the jersey, according to USA Today. "This is not good. It was right here and now I don't have it. Not good"
As of Monday, Feb. 6, the pro athlete's jersey was still missing and Texas rangers have reportedly been asked to help with the case. According to the NFL, Texas Lt. Gov. Dan Patrick had asked the state's rangers to help Houston police with the search.
"Tom Brady's jersey has great historical value and is already being called 'the most valuable NFL collectable ever,'" Patrick said in a statement released Monday. "It will likely go into the Hall of Fame one day. It is important that history does not record that it was stolen in Texas."
The statement continued, "Whoever took this jersey should turn it in. The Texas Rangers are on the trail."
"It's unfortunate because that's a nice piece of memorabilia," Brady told reporters on Monday at a press conference for the Super Bowl 51 MVP. "If it ends up on eBay, let me know."
According to The New York Post, Brady's Super Bowl jersey could be worth as much as $500,000, if it's found and authenticated relatively soon. But, that might be tricky to cash in on because legally it can't be sold publicly right now — almost anyone who might be interested in buying it knows that the jersey is a hot item, and not in a good way.
This is not the only time a prized Patriots possession has gone missing. As the NFL pointed out, Russian president Vladimir Putin once reportedly stole the Kraft's Super Bowl ring after the team won its third title in 2005. (Yes, you read that right.)
If it's any comfort, at least Brady may not feel so bad now.