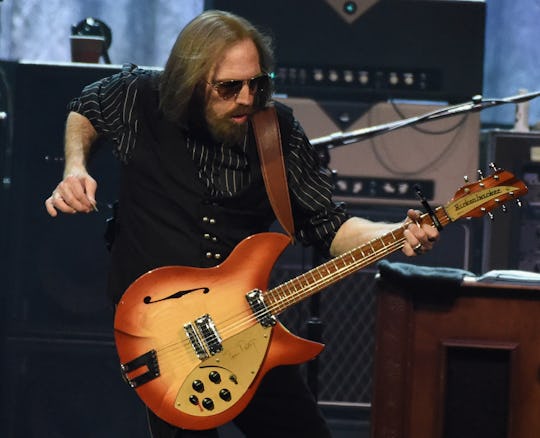 Rick Diamond/Getty Images Entertainment/Getty Images
Rock Legend Tom Petty Rushed To The Hospital After Full Cardiac Arrest
Update: Despite reports, Tom Petty has not passed away. According to TMZ, Petty is "clinging to life" but "is not expected to live throughout the day." In a tweet, the LAPD states it has no information about the passing of singer Tom Petty. We will update when there is more news about Petty's condition.
Classic rock legend Tom Petty finished up a tour last week, culminating in his home state of California. And in a sad turn of events, he was reportedly rushed to the hospital on Sunday night. Many are wondering what happened to Tom Petty, given that he was found "unconscious, not breathing, and in full cardiac arrest," as TMZ reported on Monday. Within the hour, CBS confirmed that Petty died on Monday afternoon, although conflicting reports have stated that's not the case. Romper has reached out to Petty's representation for comment but has not heard back at this time.
The 66-year-old creator of Tom Petty and the Heartbreakers was "rushed to UCLA Santa Monica Hospital where he was put on life support and his pulse returned," law enforcement officials shared on Monday, according to People. Petty's current condition is not yet known, but he was reportedly taken off of life support after he was found to be lacking any brain activity.
Last week's concert at the Hollywood Bowl was to mark the beginning of a month long break for Petty. He'd been on the road since April, performing all across the United States and Canada. Petty predicted that this tour would be the Heartbreakers' "last big one," seeing as the band first got together a solid 40 years ago. The Florida native's laid-back love songs like "Free Fallin'" and "American Girl" and his more cutting tracks like "Breakdown" and "I Won't Back Down" made their way into rock and roll cannon for decades past and will persist for decades to come. In addition to his eponymous band, Petty later linked up with fellow starts George Harrison, Bob Dylan, Jeff Lynne, and Roy Orbison to form The Traveling Wilburys — a supergroup that won the band a Grammy.
But that's not the only Grammy Petty garnered over the years. In total, he earned 18 Grammy nominations throughout his life, winning three in the end. In 1996 he won Best Rock Vocal Performance for "You Don't Know How It Feels" and 2009's "Runnin' Down a Dream" won Best Music Video in Long Form.
Petty's road to rockstardom was paved with obstructions. He grew up in Gainesville, Florida, and suffered an adolescence of poverty at the hands of an addictive and abusive father. Petty dropped out of school at age 17 to play in a band and, about 10 years later, Tom Petty and the Heartbreakers formed. Petty struggled with drug use and was addicted to heroine, but was able to eventually break the habit with the support of professionals and the support of his family, according to The Daily Mail.
Petty has two children, 42-year-old Adria Petty and 35-year-old Kimberly Violette Petty, with his first wife, Jane Benyo. After their split in 1996, Petty got together with Dana York, who he married in 2001. The two had no children together but have enjoyed a long, loving partnership with one another.
Leading up to his hospitalization, Petty had two upcoming tour dates — a couple of sold out shows on Nov. 8 and 9 at Iridium in New York City.
"I have a very blessed life," Petty shared with Parade in 2010. "I think any time you're making a living at what you love to do, you're blessed," he mused. Petty's music is a blessing in and of itself, one that connected with so many, through albums, books, and live performances over his long-lasting career. And no matter what develops in the coming hours and days, it's clear that this impression will forever remain.
Watch Romper's new video series, Romper's Doula Diaries:
Check out the entire Romper's Doula Diaries series and other videos on Facebook and the Bustle app across Apple TV, Roku, and Amazon Fire TV.