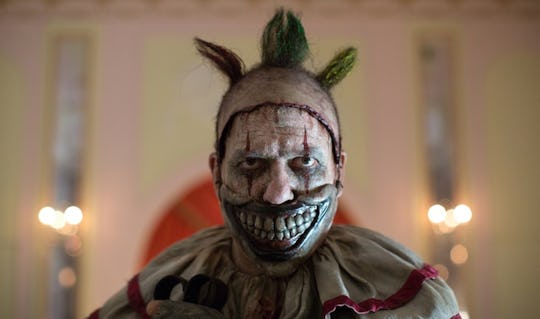 Michele K. Short/FX
Twisty The Clown Lived A Tragic Life Before 'AHS: Cult'
American Horror Story has delved into its own history over the years to provide little treats for fans curious about how the seasons connect, but the upcoming seventh season will be going even farther. A major figure from Season 4 is coming back to inspire fear. Twisty the Clown was the villain of Freak Show until Dandy Mott took his place, but his horrifying visage wasn't an easy one to forget. It's unclear how much of his backstory will play into the events of the new season, but it's worth reminding ourselves what happened to Twisty the Clown before AHS: Cult, so that no one will feel lost or confused whenever he decides to pop up for a scare.
When Twisty first appeared in Freak Show, he was a silent and terrifying figure stalking innocent victims in Jupiter, Florida. In one glimpse, he immediately jumped the ranks to become one of the scariest clowns ever on screen, but AHS tried to inject him with some humanity as well. Nothing excused the violence he perpetrated, of course, but his story tried to show how he was shaped into the masked, bedraggled kidnapper he became. Season 4 was all about how society created its own monsters (and what being a monster really meant), and Twisty's tale fit right in with that particular theme.
Twisty began his career in the circus as a normal clown — as normal as any clown can be, that is. He loved entertaining kids and was beloved by them in return, but that caused some jealousy amongst his carnival co-workers. They began to spread the rumor that Twisty was a pedophile, which put an end to his days as a happy and (mostly) non-creepy clown. His life deteriorated to the point that he began to contemplate suicide.
However, Twisty's attempt to take his own life was unsuccessful and he ended up losing the lower half of his jaw in the shotgun blast, leaving him disfigured. Though he survived, the way he looked made him even more of an outcast. Twisty began to cover his face with the horrible grinning mask that would become his signature and he transformed fully into the criminal who was introduced at the start of Season 4. Twisty kidnapped people with the hope of winning them over again while seemingly unaware of how much terror he was causing.
In the end, Twisty was killed by the ghost of Edward Mordrake, who collected the souls of carnival members. It seems in the time since, Twisty may have become something of an urban legend, lending inspiration to a comic book version of himself that haunts one of AHS: Cult's main characters. Twisty's death in Freak Show may mean he can't appear in person in Season 7, but his story continues nonetheless.