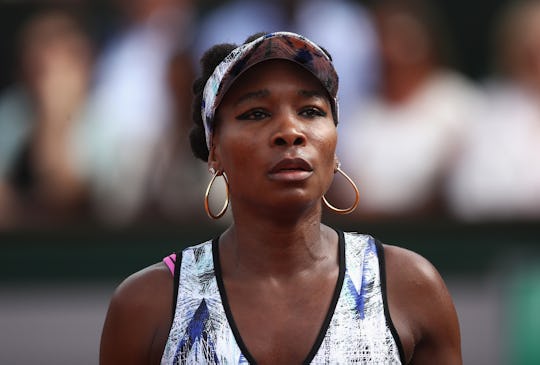 Julian Finney/Getty Images Sport/Getty Images
Venus Williams Involved In Deadly Car Crash
According to a police report obtained by TMZ, tennis champ Venus Williams was involved in a major incident in Palm Beach Gardens, Florida, earlier this month. What happened to Venus Williams? The 37-year-old tennis star is fine, but she was reportedly involved in a car crash that left a 78-year-old man dead. Neither representatives nor lawyers for Williams immediately responded to Romper's requests for comment.
On June 9, Williams was driving northbound on Steeplechase Drive in an SUV, according to a diagram of the accident from the police report. The victim, Jerome Barson, was a passenger in the other car involved in the accident, driven by his wife. According to Barson's wife, Williams' vehicle sped into the intersection, which caused the woman to T-bone William's SUV. The intersection where the crash occurred is en route to the exclusive Ballenisles Country Club, according to Google Maps.
Barson was taken to a local hospital for head trauma; Barson's wife was also taken to the hospital for "broken bones and other injuries," her lawyer Michael Steinger told TMZ. After two weeks in the ICU, Barson died from his injuries. Williams did not suffer any injuries, as noted in the police report, but was found "at fault for violating the right of way" of the other driver.
According to court records obtained by website Heavy, Williams was cited by Palm Beach County police for two prior traffic violations. In July 2013, Williams was involved in a car crash and was charged with unknowingly driving with a suspended license. In 2011, the Jupiter Police Department stopped Williams, where she received a citation for driving without proof of insurance.
The news of Williams' involvement in a deadly traffic accident comes just days before she is set to play at Wimbledon in London next week. Williams is expected to perform well at Wimbledon, despite her elimination at the French Open — a major upset — earlier this month. There's been no word from Williams' younger sister Serena, who has grabbed the spotlight of late for her pregnancy and engagement to Reddit co-founder Alexis Ohanian. Because of her pregnancy, Serena will not be at Wimbleton this year, which is why all eyes and hopes have turned to her older sister and five-time Wimbledon women's champion.
According to TMZ, the police report stated that there was no evidence that Williams was driving under the influence, as well as no indication she was texting while driving, or otherwise distracted by electronic devices. It's a terribly tragic accident that has left a man dead, one with which Williams will have to live for the rest of her life.