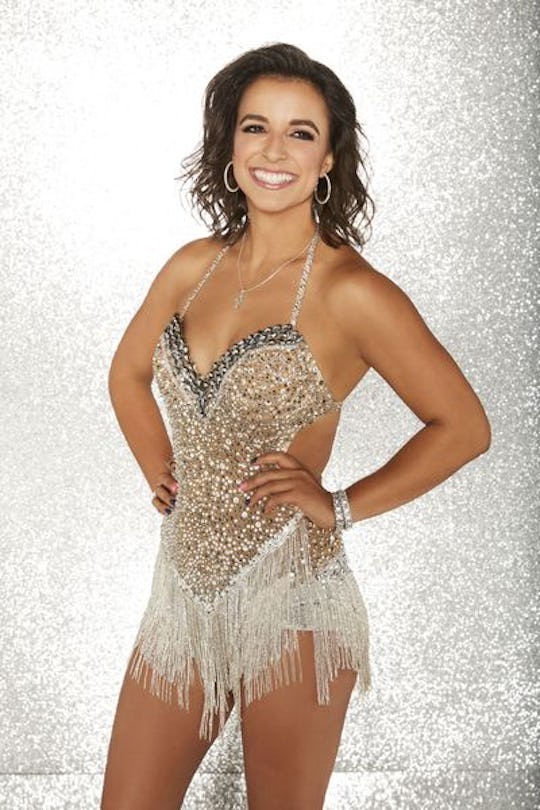 Craig Sjodin/ABC
Here's Why Victoria Arlen Almost Didn't Dance on 'DWTS' On Monday
You know, there was a time when I thought it would be so fun to be on Dancing with the Stars. But seeing how many injuries people have been suffering lately from being on the show, I'm beginning to think I'm better off as a spectator. So what happened to Victoria Arlen on DWTS? At the eleventh hour she suffered a serious-looking injury that threatened to take her out of the competition altogether.
Right before the show cut to commercial on Monday night's Trio's episode of Dancing with the Stars, they showed a clip of Arlen suffering a rib spasm just a few hours before the show was set to air. Her partner Val Chmerkovskiy was then shown carrying her to a seat while producers hovered nervously and asked if she could even go on. Nobody knew how she would be affected or if she'd be able to go on and dance. It was even scarier considering the fact that Arlen said it was a lot like actually being paralyzed. Remember Arlen only regained the use of her legs a year and a half ago, and still cannot feel them. But nothing daunted — after all Arlen has certainly been through worse — she got up and danced anyway.
That said, the judges weren't exactly super generous in their review of Arlen's first performance of the night. Though she's certainly improved as a dancer, she wasn't able to bring out quite the intensity that her partner was hoping to. She and Chmerkovskiy danced an Argentine Tango to "Down" by Marian Hill, where Arlen would have to bring on the "sexy," which can be uncomfortable for some people — quite understandably! Judge Carrie Ann Inaba recommended Arlen bring her eyes up, while Bruno Tonioli said that she would have to become a "man eater."
Apparently it is not the moment for messing around on Dancing with the Stars. Luckily, host Tom Bergeron was a little more sympathetic to how Arlen must be feeling. After all, she has overcome so much, it must have been terrifying to feel like she wouldn't be able to dance when she's worked so hard for that skill. When asked whether the spasm brought on any frightening memories or if it impacted her performance, Arlen was (predictably) upbeat and zen about the whole performance. Sure it might not have been her best work, but she came up and absolutely killed it as usual.
"I definitely didn't feel as strong as I felt in dress before," Arlen admitted. However, she continued, "but kind of overcoming that, taking some much needed rest, getting out of that scared mindset helped me go out there. It wasn't as good as it could have been but given the circumstances I'm very happy with it." If I were Arlen I would definitely be proud of that performances. The judges gave her three eight scores for a final total of 24 out of 30. Sure it wasn't the best-scored dance of the night, but I thought it was beautiful.
Luckily, Arlen would have another chance to prove her chops, as the second dance of the night gave the night its theme night — the trio dance. For the three-person dance, this time the show brought on Dancing with the Stars alums, and Arlen was joined by Season 23 winner and fellow Olympian, Laurie Hernandez. If anyone can keep up with the high-octane energy of Hernandez, it has got to be Arlen.
Now whatever the outcome of the show, I've got to say that one thing remains totally true. Nobody works as hard for this as Victoria Arlen.
Watch Romper's new video series, Romper's Doula Diaries:
Check out the entire Romper's Doula Diaries series and other videos on Facebook and the Bustle app across Apple TV, Roku, and Amazon Fire TV.