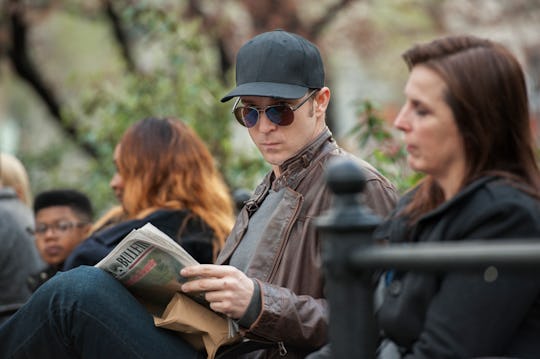 Myles Aronowitz/Netflix
Everything You Need To Remember About Will Simpson On 'Jessica Jones'
On March 8, fans will finally get to see the story of Jessica Jones continue when Season 2 makes its debut on Netflix. One of the few loose threads left hanging at the end of the first season was the fate of Will Simpson, a character who may prove to be important later on. But what happened to Will Simpson on Jessica Jones? His story was one of ups and downs, taking him from tentative ally to villain who had to be defeated.
Simpson was introduced as yet another victim of Kilgrave's control. He was just a normal New York City cop whom Kilgrave ordered to kill Trish Walker as revenge for something she said about him on air. Simpson used his badge to gain access to Trish's apartment, where he attacked her and would have killed her had Jessica not intervened. She convinced Simpson that Trish was dead and his mission accomplished, at which point he returned to Kilgrave, who was going to dispose of him as easily as he did most of his victims. But Jessica stepped in once more, preventing Simpson from killing himself on Kilgrave's orders and saving his life.
After that, Simpson wanted vengeance of his own on Kilgrave. He also visited Trish to try to make amends for his unwilling attack on her and the two became involved romantically. But that was only the first part of his arc.
When one attempt to get Kilgrave backfired majorly, Simpson was caught in a bomb explosion. Trish rushed him to the hospital, where a figure from Simpson's past named Dr. Kozlov emerged. During Simpson's army service, he had taken part in an experiment overseen by Dr. Kozlov and sponsored by the organization IGH. He was given Combat Enhancers, pills that made him super strong and capable but also destroyed him psychologically. Simpson had successfully stopped using the pills once before, but he became embroiled with them a second time when Kozlov came back onto the scene.
When using the pills, Simpson's personality shifted dangerously and he soon spiraled out of control. He became consumed with wanting to take Kilgrave out, but he didn't care who he hurt (or even killed) in the process. After causing serous damage, Simpson fought with Trish (who had helped herself to some of his pills) and was knocked out by Jessica, utilizing her impressive punctuality to arrive right on time yet again. She knocked him out, and later Kozlov arrived with some men from IGH to haul him off for questioning. That was the last time any of the viewers saw Simpson onscreen.
Some fan theories sprang up in the wake of Simpson's Season 1 storyline. In the comics, there was a character named Frank Simpson who was a super soldier much like Captain America, only his transformation wasn't quite so seamless. By the time he's been put through a round of experiments, Frank had an American flag tattooed across his face and two hearts that he used color-coded pills to regulate. Jessica Jones' Simpson also used color-coded pills to give himself abilities and keep himself from dying.
It definitely seems like Will Simpson is a new version of Frank Simpson, especially going off something actor Wil Traval said during New York Comic Con in 2015. "People may recognize him from the comics," Traval told IGN. "His last name is Simpson. That might give you an indication. He comes from that period in the 70s that's post-Vietnam War and there's psycho super soldiers. So... that's his origin point, but we're reinventing it it."
That might be a hint about what Season 2 holds for Simpson. Frank became the villain Nuke, which could very well be the course Simpson finds himself on as well. Season 1 set him down that path, and it's possible the second season will continue that journey.
Check out Romper's new video series, Romper's Doula Diaries:
Watch full episodes of Romper's Doula Diaries on Facebook Watch.