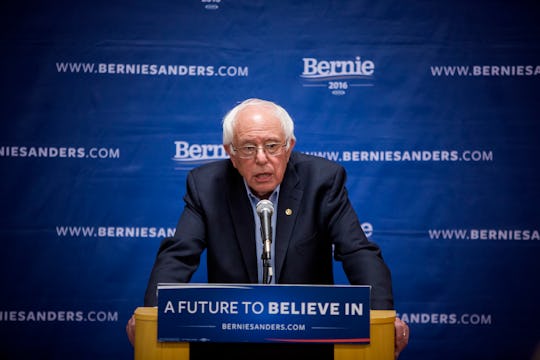 Eric Thayer/Getty Images News/Getty Images
What Happens If Bernie Sanders Wins New York? The Democratic Race Is Ramping Up
If you're someone who likes orderly, predictable things, then the Democratic primaries have not been on your side. Just last month, many were questioning whether Vermont Sen. Bernie Sanders would drop out of the race after Super Tuesday. Then yesterday, Sanders won the Wyoming caucus — his seventh win in a row, and the last before he and former Secretary of State Hillary Clinton battle it out in New York. Polls currently show Clinton leading in New York by an average of 14 percentage points, but Sanders has disrupted predictions in the past. So what happens if Bernie Sanders wins New York? It's not a crazy question to ask.
Keep in mind, New York is Clinton's territory. She lives there with husband, former president Bill Clinton, and served as the state's senator for eight years. Sanders may have grown up in Brooklyn, but his political career has been firmly rooted in Vermont. Not to mention Clinton is still leading the race, with 1,756 delegates (497 of them superdelegates) to Sander's 1,068 (including 69 superdelegates), and polls place her an average of 14 points ahead of Sanders in New York.
And yet, Sanders has defied the polls before. Nearly all major polls showed Clinton 10 to 20 points ahead of Sanders in Michigan, yet he scored 67 delegates to her 63. Poll predictions were off in Iowa, as well, where Clinton was supposed to win by four percentage points, but the candidates drew a virtual tie. Sanders is also coming into New York on a wave of momentum, and while polls show him lagging behind Clinton, he's not too far off.
Grant Reeher, director of the Campbell Public Affairs Institute, told The Hill recently that any anxiety felt by Clinton's campaign would be understandable. He explained,
"It's about two things: momentum and it's fair to say that Sanders has it right now. And the polls which indicate that Sanders is gaining ground on her. It's a response to a perceived problem that something is shifting."
So what would happen if, against current predictions, Sanders did win New York? First of all, it would be a blow to the Clinton campaign, and not because of the high delegate count up for grabs (there's 291 delegates in New York, 44 of them superdelegates). As Clinton's home state and her campaign's operational hub, it would be an embarrassing — and unexpected — loss, since nominees tend to do well in their home states. It would also bolster Sander's current streak.
At a recent South Bronx rally, according to Gothamist, Sanders told supporters, "If there is a large voter turnout, we will win. And if we win here in New York, we are going to make it to the White House!"
However, Clinton's campaign says otherwise. "No, I don't think that's true at all," Clinton's campaign press secretary, Brian Fallon, told MSNBC, according to Politico. If Sanders wins in New York, he said, "that only prolongs the contest, it doesn't put him on the trajectory to overtake us in our pledged delegate lead."
Which is true. If Sanders were to win in New York, he would still need to make up for Clinton's earlier lead in the primaries to cinch the nomination, which would mean wins in a majority of the mid-Atlantic states, according to The Los Angeles Times. He would need big wins in Pennsylvania, California, and New Jersey, and by large enough margins to overcome Clinton's current lead.
So a Sanders win in New York wouldn't spell death for Clinton's campaign — but it would add a very large burst of energy to Bernie's momentum, and could spell out hope for a path to the presidency (whether through a win of his own or a contested convention). As for Clinton? With her current lead, she definitely wouldn't be dropping out in the event of a New York loss — but she'd likely be hitting the pavement twice as hard in remaining states.