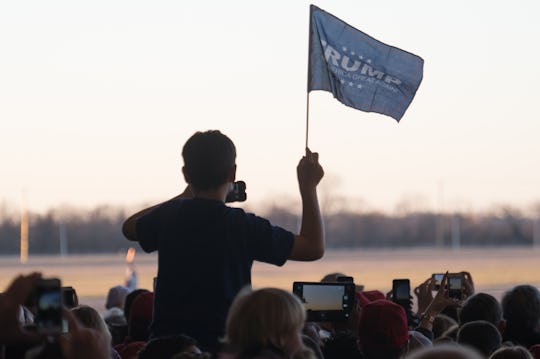 MICHAEL B. THOMAS/AFP/Getty Images
What Happens If Donald Trump Wins Super Tuesday? A Big Victory Could Spell The Beginning Of The End For Rival Republicans
With hours remaining until one of the biggest voting days of the year, the American electorate has been left wringing its hands and asking nagging questions that have yet to be answered. As both Marco Rubio and Ted Cruz inadvertently fly under the radar (despite decent poll numbers in the latter candidate's case), the public's attention has now shifted to the current GOP frontrunner, and for good reason. While no one is 100 percent sure what happens if Donald Trump wins Super Tuesday, with a victory virtually inevitable, it's a scenario that deserves consideration.
Trump has maintained a wide berth over his rivals in most major polls (a lone NBC/WSJ poll put out mid-February had Cruz at 28 percent support, two points higher than Trump), so the notion that the bombastic billionaire mogul could run away with a momentous victory on Tuesday night isn't entirely inconceivable. But what would that mean for the GOP?
If Trump manages to take home a big win on Super Tuesday, one of two likely things could happen. In both instances, of course, a Trump victory will signal to lower polling candidates, like retired neurosurgeon Ben Carson and Ohio Gov. John Kasich, that it's time to abandon the race. Their abandonment would then place both Rubio and Cruz in a difficult spot with desperate Republican voters, who could potentially decide to go the way of New Jersey Gov. Chris Christie, reluctantly handing their support over to Trump to avoid a potential Democratic victory.
In the first scenario, Trump manages to take enough states to declare himself the night's big winner, either eeking out a last-minute lead or finishing a close second in places like Texas (Cruz's home state, where a Trump win would be especially damaging to the senator's reputation), Minnesota, Vermont, or Massachusetts. If that happens, then Rubio and Cruz could plausibly stand to stick around through to March 15, when the next largest crop of delegates will be up for grabs.
But even if Trump loses the aforementioned states to his closest rivals, at least one of those candidates could still be at risk of losing valuable support. "Texas is must-win for Cruz," NPR's Domenico Montanaro wrote in an analysis on Monday, arguing that if Cruz allowed a home state win to slip through his fingers, his campaign could begin to crumble. "... The rationale for [Cruz's] candidacy collapses," Montanaro explained.
Rubio too could take a hit, even if Trump doesn't manage to secure all 13 states on Super Tuesday: Despite a CBS/YouGov poll placing the Florida senator a relatively close 13 percentage points behind Trump in Virginia (with a handful of northern regions even reporting Rubio beating Trump), nervous voters might still take a single state win on Super Tuesday to mean that their donations would be better off going to the more victorious Trump. Already, some have begun reluctantly accepting that Trump will be the eventual nominee, and even former House Speaker Newt Gingrich admitted on this week's Fox and Friends that Republicans who believed Trump could still be defeated were living in a "fantasy land."
The second scenario is significantly more concerning to the GOP establishment, especially given Trump's most recent numbers. According to a CNN/ORC poll released on Monday, Trump will be entering the Super Tuesday race with 49 percent support among voters — a staggering 33 percentage points above his next closest rival, Rubio, who sits at just 16 percent. If those numbers remain in his favor, a Trump sweep is almost certainly guaranteed.
"[Trump's] timing has been impeccable," media magnate Steve Forbes told RealClearPolitics this week. "Most thought he would be a passing fad, so they didn't go after him in a concerted way." And while poll numbers alone have previously been only part of the equation in determining a candidate's overall success, this time around, it seems frustrated voters are thriving on them — leaving Trump to easily gather up new supporters with ease.
For the establishment, this could mean disastrous, long-lasting effects within the Republican ranks, with the GOP essentially splintering into two factions: Trump supporters (and the reluctant voters who decide to follow them down the war path) and traditional conservative stalwarts. If that happens, the public can count on more strife in Washington than ever before.
Republicans are now facing a challenge going into the pivotal Super Tuesday elections: Concede the victory to Trump right now or scramble to throw together a last-minute push for their respective candidates in the hope that the inevitable isn't just that. For all intents and purposes, it seems that the former is much more likely.