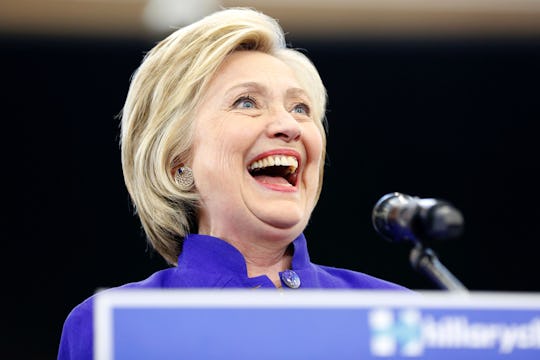 JONATHAN ALCORN/AFP/Getty Images
What Happens If Hillary Clinton Loses California? Probably Not Much
The year-long battle for the Democratic party nomination came to a head on Tuesday, as Hillary Clinton and Bernie Sanders launched a final bid for the ticket. While five other states are also heading to the polls, the race will be especially tight in California, where Sanders commands the support of young, liberal voters, while Clinton holds sway with minority communities. So what happens if Hillary Clinton loses California? Probably not much, according to the latest media reports.
Clinton has commitments from just enough delegates to clinch the democratic nomination, regardless of what happens in California, the Associated Press reported late Monday. The projection sets her up to be the first woman to be on the presidential ticket of a major party.
The former secretary of state, New York senator and first lady rode a weekend victory in Puerto Rico to the nomination, reaching support from the 2,383 delegates needed to become the nominee on Monday.
The reports put Clinton on a secure path to victory after an unexpectedly protracted race against Sanders, a self-proclaimed democratic socialist who emerged as the unlikely hero of a growing liberal democratic base. Clinton's reaction to the report was cheerful but subdued, as she waited for poll results to roll in.
"I got to tell you, according to the news, we are on the brink of a historic, historic, unprecedented moment, but we still have work to do, don't we?" Mrs. Clinton told a crowd in Long Beach, California on Monday. "We have six elections tomorrow, and we're going to fight hard for every single vote, especially right here in California."
Clinton's projected nomination comes eight years to the day after she ended her 2008 campaign against President Obama.
Sanders ignored the reports when he took stage at a rally in San Francisco on Monday night, to a chorus of supporters chanting "Fight on, fight on."
"It is unfortunate that the media, in a rush to judgment, are ignoring the Democratic National Committee's clear statement that it is wrong to count the votes of superdelegates before they actually vote at the convention this summer," the Sanders campaign wrote in a statement. "Secretary Clinton does not have and will not have the requisite number of pledged delegates to secure the nomination. She will be dependent on superdelegates who do not vote until July 25 and who can change their minds between now and then."
The remainder of the race looks bleak for Sanders, who would likely lose the nomination even if he wins California, according to polling website FiveThiryEight. Sanders would still trail Clinton nationally by almost 200 elected delegates and about 2 million votes, depending on turnout in California.
Sanders hopes to use a win in California to convince superdelegates to revoke their support for Clinton before they officially vote at the party's convention next month, arguing he is better positioned to defeat presumptive Republican nominee Donald Trump. But according to an AP survey, no superdelegate has yet revoked their support for Clinton in order to back Sanders.
"We really need to bring a close to this primary process and get on to defeating Donald Trump," Nancy Worley, a superdelegate who provided one of the last endorsements to set Clinton up for the win, told the AP. For now, despite what happens in California, it seems Clinton has clinched the coveted win.