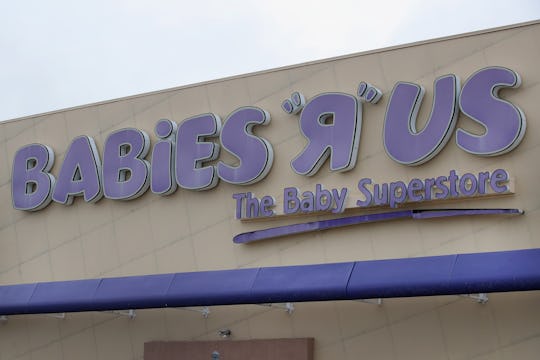 Scott Olson/Getty Images News/Getty Images
Here's What You Need To Know If You Have A Registry At Babies "R" Us
I can hear the jingle in my head, "I don't want to grow up, I'm a Toys "R" Us kid..." The song is as essential to my childhood as the store was. When I became a mother, its sister store Babies "R" Us was practically my second home. It was there I bought car seats, diapers, wipes, and everything else I needed. I've also bought countless gifts for friends from their registry, long a gold standard of the industry. With its closure and liquidation, many are wondering, what happens if I have a registry at Babies "R" Us?
The thing is, nobody's totally sure if it's just the brick and mortar stores that are closing. Sometimes, if physical stores close, the online market remains open for business, and purchases and returns can be made that way. However, Babies "R" Us is apparently undergoing a complete liquidation of assets with all locations being sold or closed, reported USA Today, which could mean their online presence will disappear, too. Romper has learned that the online store and registry will stay open for a few weeks, but we were not able to confirm a closing date for either.
That means that things like registries, gift cards, coupons, and even warranties could go up in smoke, according to the Better Business Bureau. With something as complicated and thoughtful as a baby registry, to know that it might just disappear is disheartening. As of right now, registries are still up and running, and purchases can be made. Returns however, may not be processed, and gift cards can't be returned for cash. Also, while they're currently still offering the registry completion discount, if you choose to use it on a large purchase, make sure that you can have it serviced through the manufacturer if need be.
I spoke with several employees and managers across a few stores in Brooklyn to determine what happens if I have a registry at Babies "R" Us, and their answers were telling. Some were very candid, saying things like, "Transfer your registry to Target." Other answers were more circumspect, noting that if your shoppers start their gift buying during liquidation, they're going to get some steep discounts, just don't buy a Babies "R" Us gift card as a present — even if you're registered for some.
Everything at these stores is going into "final sale" mode. That means that if someone buys something from Babies "R" Us you don't like, or if the product isn't what you were expecting, you'll likely be unable to return the merchandise in the near future. The stores are still honoring the Babies "R" Us registry completion discount, which is 15 percent off a total purchase, but with all the other provisos related to final sales, and the nature of liquidation sales, it might behoove you to move your registry and take advantage of the discount elsewhere.
As of the writing of this article, no major retailer has yet stepped up to take over baby registries that are already in motion, although that would be a boon to their businesses, no doubt. There's no streamline way to transfer a registry. Although, the employees I spoke with at Buy Buy Baby said they'd be more than happy to help you transfer and find reasonable matches for any Babies "R" Us exclusives.
This isn't an ideal scenario, and it's pretty heartbreaking to all of us '90s children who lived for the Toys "R" Us catalog every Christmas. It feels like one more stab at our memories in the way of KB Toys and Borders Books.
It doesn't have to be devastating, though. Most things you'd purchase from your registry aren't things you're likely to return. Onesies, socks, diapers, wipes, and nursing pads are pretty essential. It's the big things like cribs and strollers that you'd like to have a warranty on that make it tricky. In the end, you'll have to balance the liquidation discount against the likelihood of return, because you probably won't have that option.
Check out Romper's new video series, Bearing The Motherload, where disagreeing parents from different sides of an issue sit down with a mediator and talk about how to support (and not judge) each other's parenting perspectives. New episodes air Mondays on Facebook.
Editor's note: This article has been updated from its original version.